Around my house food is always on everyone's mind. While both kids were at home, the most frequent question I heard was "What's for dinner?" They asked this approximately 10 minutes after lunch. Every. Single. Day. Sometimes it drove me crazy because I didn't have a plan.
But it was good to know the kids were looking forward to dinner.
Family dinner makes memories.
My children brought a joyful chaos into our home, but before I could catch my breath, my oldest left for college. Looking back over 18 years, I give thanks for two things. Reading God's Word with our kids is the most important thing we did as parents. Eating dinner together comes in second place. Over meals, we talked about faith, the Bible, politics, gay marriage, cooking, and movies.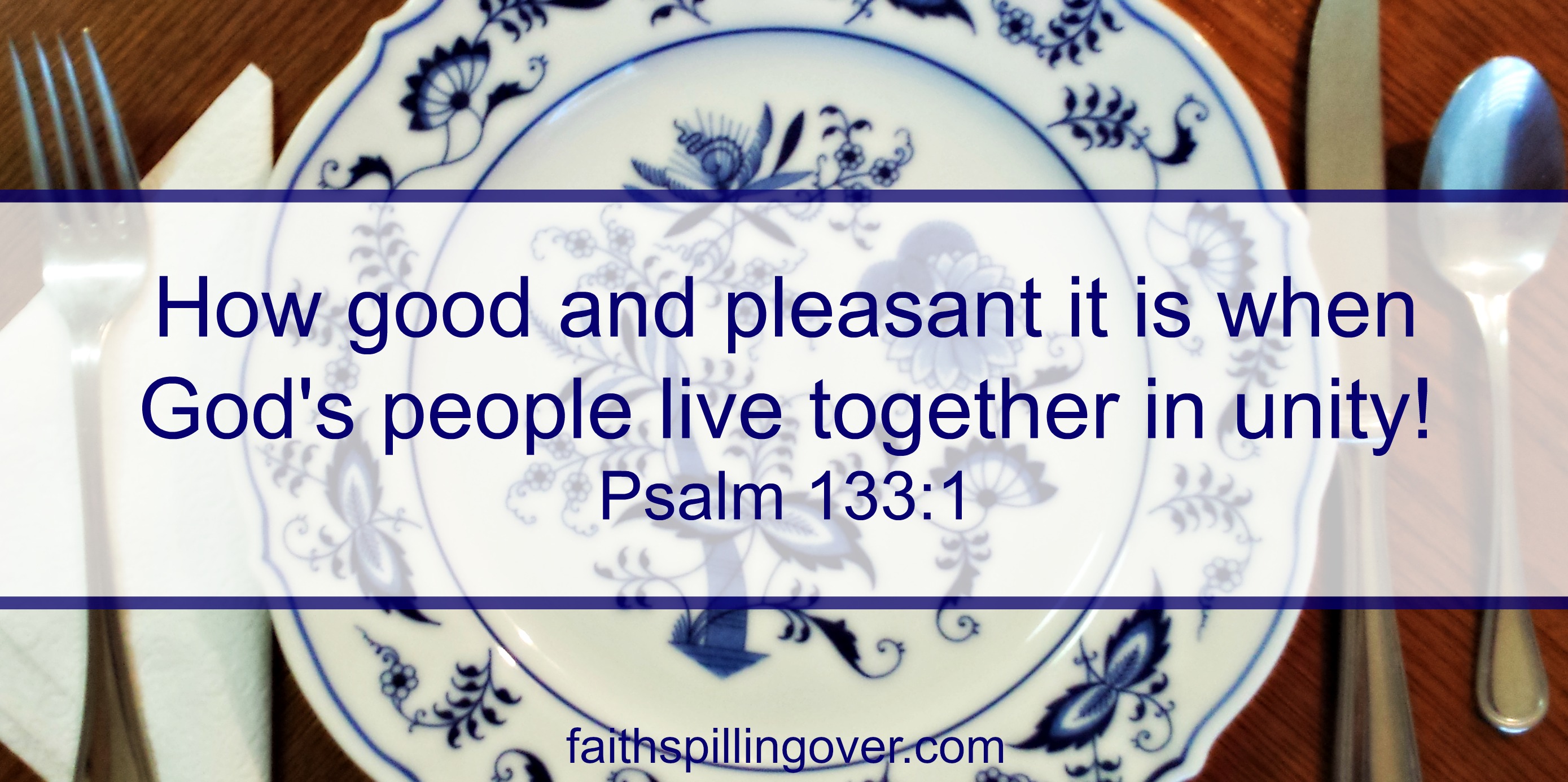 Nothing builds unity like gathering together around the table.
Family dinner guarantees that kids get time with their parents and improves family relationships. According to the Family Dinner Project, benefits to kids are greater than we think. Kids who dine with their parents 4 or 5 times a week have these advantages:
Higher self esteem
Better thinking and language skills
Better academic achievement
Lower risks of depression, teen pregnancy, and drug use
When my kids were little, family dinner was not always quality time. I'd jump up and down 15 times to wipe up spilled milk, pick up dropped forks, grab something from the kitchen, or clean faces and hands.
As the kids grew, meals became more enjoyable, but harder to schedule. When my husband and I had evening ministry commitments, we ate earlier. When my son got a job two evenings a week, we ate later. We'd start at 7:30, and he'd join us. If he came home really late, we'd usually sit at the table with him. The important thing was that no one ate alone.
With today's busy schedules, family dinner may not look like it did on The Brady Bunch, but you can still make it work.
Here are 4 dinner time tips:
1. Get Real
If you're struggling with consistency, don't wait for perfect. Sometimes it helps to schedule dinner together 2 or 3 nights a week as a start. Or make an effort to eat with whoever's at home. Reduce stress by keeping meals simple. If all else fails, your family can still eat together at McDonalds on the way to sports practice.
2. Get Kids Involved
Mom, don't shoulder all the work alone. Kids can set the table, help with cleanup, or make a salad. If you're brave and have nerves of steel, try a family cooking night once a week. Not so brave? Go for once or twice a month. You might discover some budding culinary talent.
3. Get Unplugged
Dinner is time to turn off the TV, put away the cell phones, and let your landline ring if someone calls. They'll call back. Don't let anything steal your precious time with your family.
4. Get to Talking
Ask everyone what the highlight of their day was. Did anyone have a lowlight? Did anyone see God at work in their day? What are your kids interested in? Ask them about it.
You'll never regret making family meal times a priority. When we get real, get the kids to help, get unplugged, and get to talking, we're making memories with our families. What does dinner look like around your house? What tips do you have for making family dinner work?