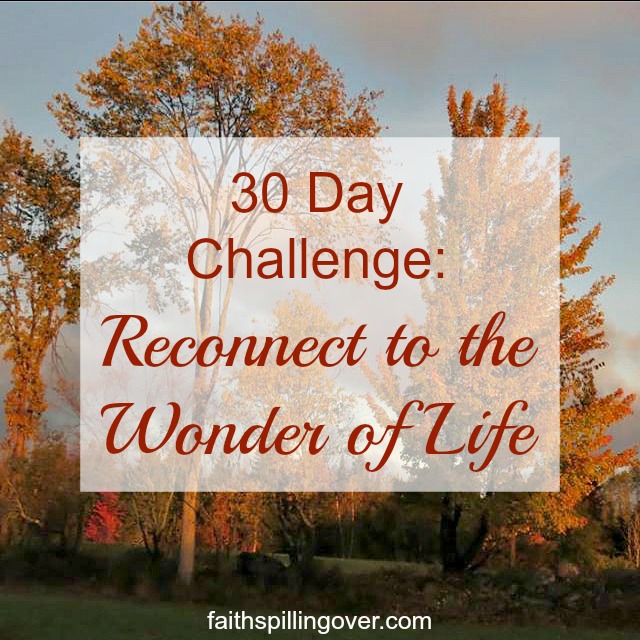 When was the last time you felt awed by the wonder of life?
Believe me, awesome was not the first word that came to mind when an alarm went off at 2:00 a.m. in our living room. Three Loud Tweets every thirty seconds. Jose checked the smoke detectors. He tried to disarm a motion sensor, but it was electronically wired with no off switch. What was making that noise? An hour later, it continued. Three Loud Tweets. Every. Thirty. Seconds.
We shut the bedroom door, put in earplugs, and tried to sleep. When my alarm clock sounded at 6:00 a.m., I groaned and went into the kitchen to make coffee to the tune of Three Loud Tweets. Every. Thirty. Seconds. The tweeting continued through several telephone calls to our security company until 9:30, when Jose happened to discover an additional smoke detector we'd never even seen. Dead battery.
But you know what? Even with the unseen smoke detector beeping, my French roast coffee still tasted heavenly. The breakfast my dear husband cooked blessed me, and a lovely rain pattered on the windowpanes. The beeping sound almost made me miss the beauty of the morning.
Just like that tweeting alarm, life gets loud, and we miss its beauty for all the noise.
Awesome may not be the first word that comes to our minds as we wolf down an early dinner to take the kids to sports practice or chase them down when it's bath time. At the office or in line at the grocery story, we wonder where life's wonder went.
Wonder is all around us, but we miss it.
We zoom down freeways and drive into the garage at night without looking at the stars. We wrestle the kids to bed without rejoicing because they're fearfully and wonderfully made. We eat on the run without noticing how an apple tastes amazing.
We lose touch with the awe of our Creator and His Works.
During the month of November, I'm on a mission to reconnect with God's wonder and pursue the joyful life. I hope to do two things:
Get in Touch with God's Greatness
When we slow down enough to behold the beauty of a simple flower or look up at the color of the sky, we're inspired to praise our Creator. As we read Scripture, our picture of Him grows bigger, and we can't help but praise His greatness.
Thank Him for His Wonders
We forget that even the food we buy at the supermarket is a gift from God's hand. How much more should we give Him thanks for wonders like these?
Marriage: such a blessing even when quality time is hard to come by.
A baby: so miraculous even though she cries at night.
A teenager: awe-inspiring even though he sometimes explodes.
Will you join me for 30 Days of Thanks and Praise?

Let's take a few moments every day to step away from the noise of life and remember the wonder of God and His gifts. Each evening before bed, and each morning upon rising:
1.  Whisper a word of praise to God. One simple sentence is enough.
2.  Thank Him for three blessings.
Morning and evening: a word of praise and thanks for three blessings.
Are you with me, friend? I'd love to know your thoughts.