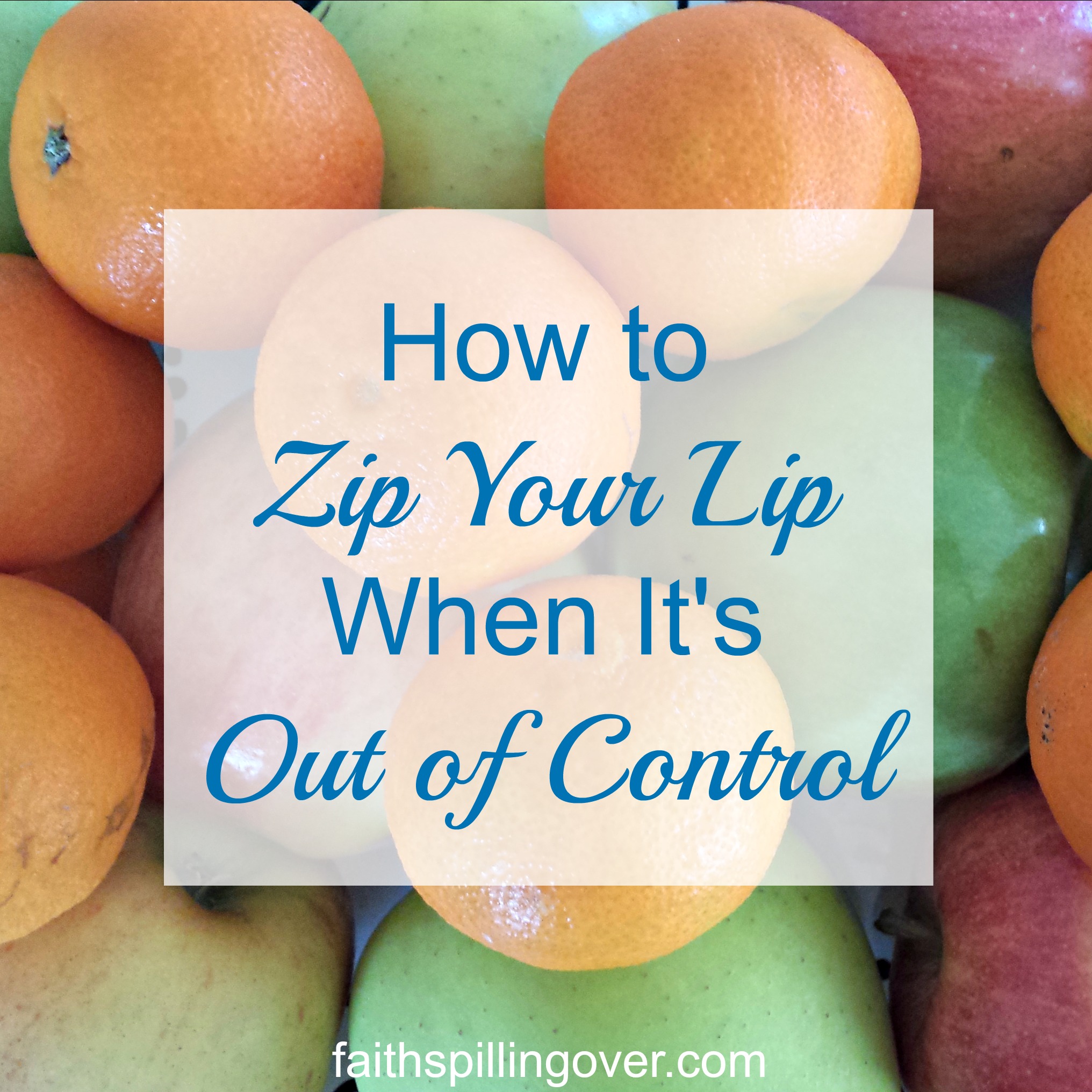 I've always had a mouth on me. Back in 8th grade Mae Jones and I talked all through math class. When the teacher moved Mae clear to the other side of the room, we girls just continued talking to each other MORE LOUDLY. The poor woman had no choice but to move us back together. However, when report card time came, I got an "unsatisfactory" in classroom behavior, and my parents let me have it.
My mouth still gets me into trouble.
When things go wrong, I complain. When I'm worried, I fret aloud. If I think I'm not getting enough help at home, I nag. Under stress, I snap at the kids or get contentious and start questioning every decision my poor husband makes.
I could use a refresher course in Zip Your Lip 101, so I looked to the book of Proverbs. On every page, verses about controlling my tongue jumped out at me.
I found the nutshell version of the refresher course I needed in Proverbs 10:31: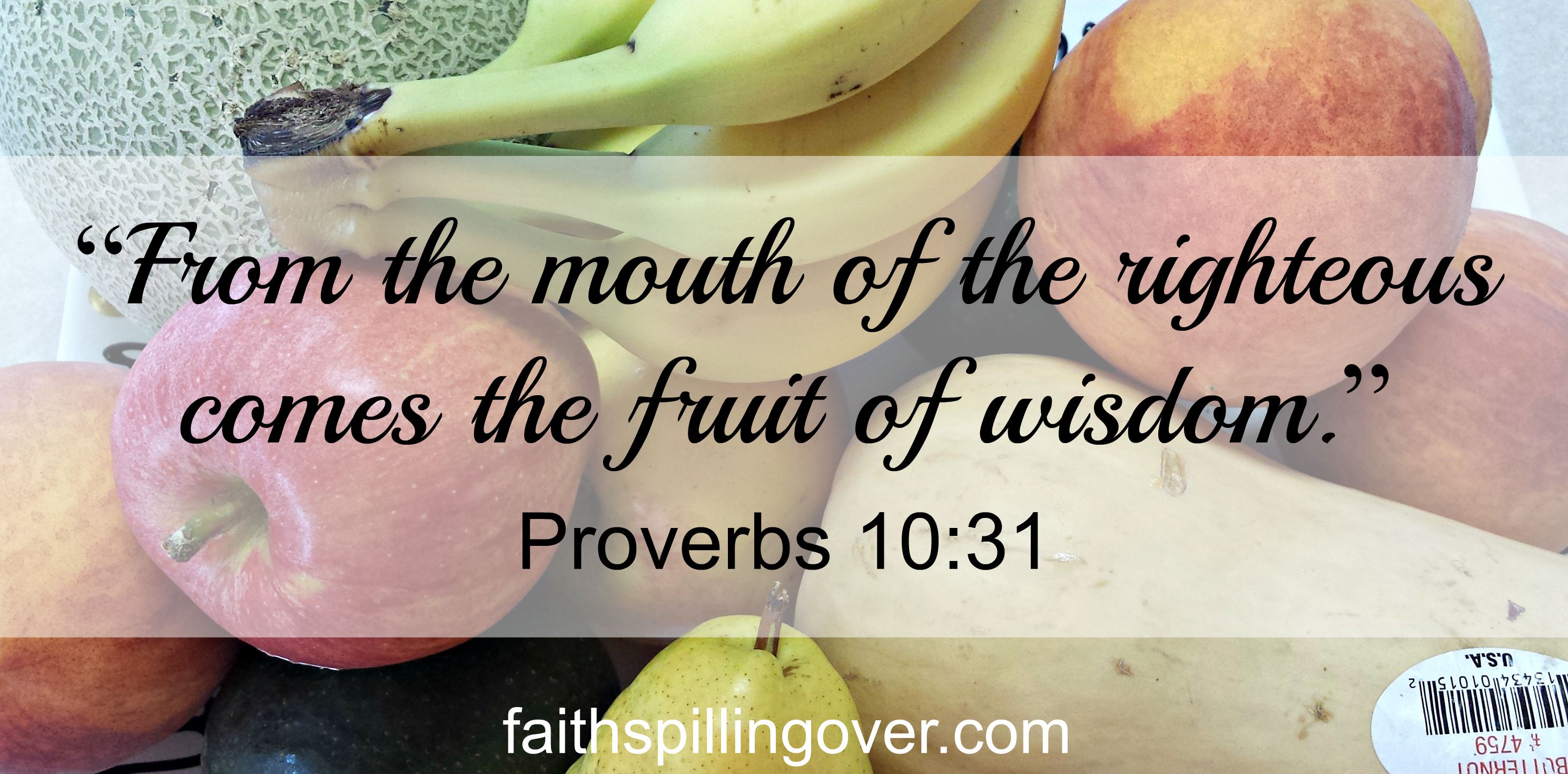 This simple verse summarizes everything. A wise person uses his words constructively to build others up. He knows when to talk, and when to be silent. James describes wisdom like this: "pure, peace-loving, considerate, submissive, full of mercy and good fruit, impartial and sincere." (James 3:17)
Does Wisdom Come Out of Our Mouths?
On a good day, when life is smooth sailing, wise words come easy. But on days when I have to go to the store twice before 9:00 a.m., or I pass three accidents on the freeway, my efforts to control my tongue crumble. I get an attitude, and anyone who gets in my way might get a gentle tongue-lashing rather than the gentle fruit of wisdom.
Our Words Reflect our Hearts
Usually when my mouth speaks out of order, it's a sign that my heart is out of order. Just like Matthew says, "The mouth speaks what the heart is full of." (12:34) Days that are too full, paired with nights that are too short can get my heart off kilter. Life crises can challenge my calm. Before I know it my mouth is spewing out the overflow of a tired, stressed, or fearful heart.
We Need to Realign our Hearts with God
Rather than beating ourselves up and striving on our own to control our tongues, we need to get to the heart of the matter. A runaway mouth that spouts off irritation might be a sign that we need to slow down, get with God, and let Him renew our hearts.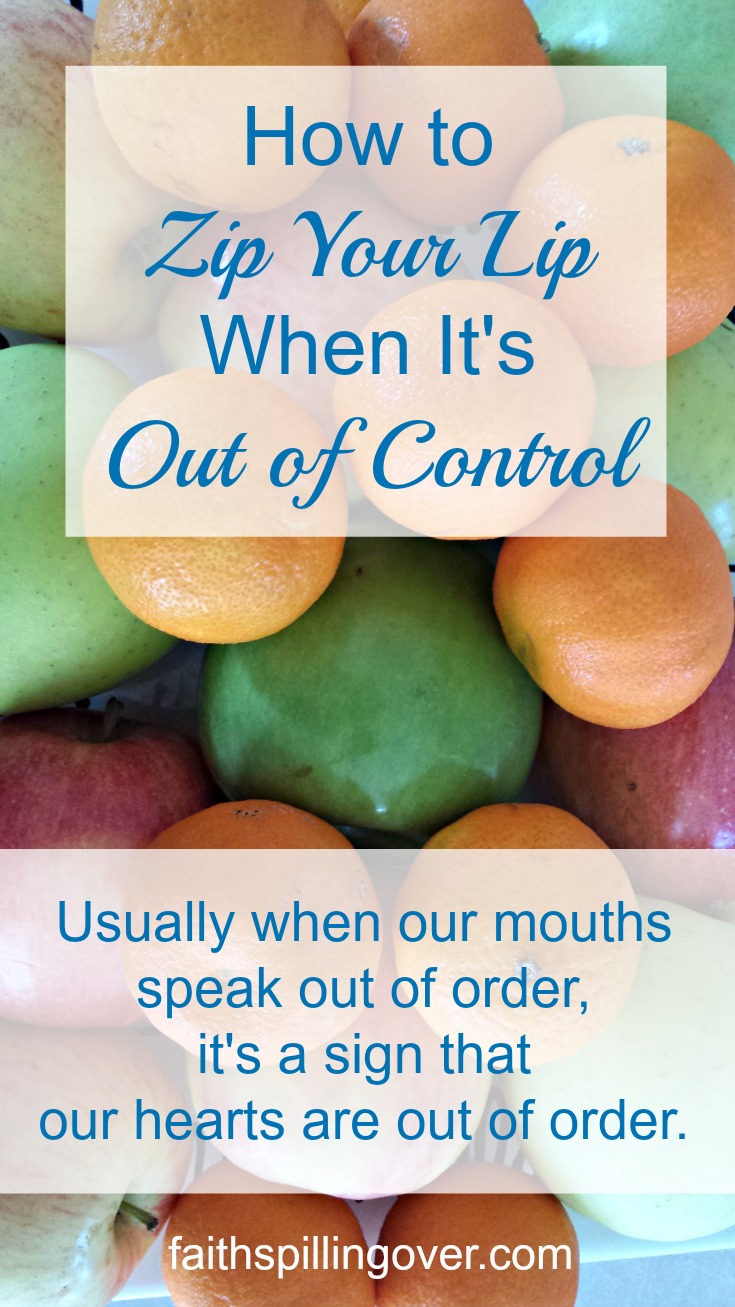 The next time you find yourself in a cycle of spouting off words that you later regret, try these four steps:
1. Zip Your Lip
Proverbs 10:19 offers some common sense advice: "Too much talk leads to sin. Be sensible and keep your mouth shut." (NLT) Sometimes we just need to apologize for unkind words and withdraw from a conversation or refrain from speaking until we cool down.
2. Get Away with God
Even locking ourselves in the bathroom to pray for a few minutes while the kids watch a video can change the landscape of our hearts and minds. Sometimes we may need to slow down our schedules a few days to spend more intentional time with God.
3. Ask Him to Cleanse Your Heart
When we confess our sinful attitudes and words to God, He is faithful to forgive and renew us.
4. Pray for Wisdom and Holy Spirit Power
We can ask God to fill our hearts with the wisdom we need and for the power to speak words that reflect Him.
When our words get out of whack, it's probably a sign that we need to draw near to God and ask Him to realign our hearts with His Holy Spirit. As we seek Him, He'll renew us and fill us with the gracious fruits of wisdom and with the self-control we need.
Now it's your turn: Does your mouth ever get you into trouble? What's your best tip for zipping your lip?