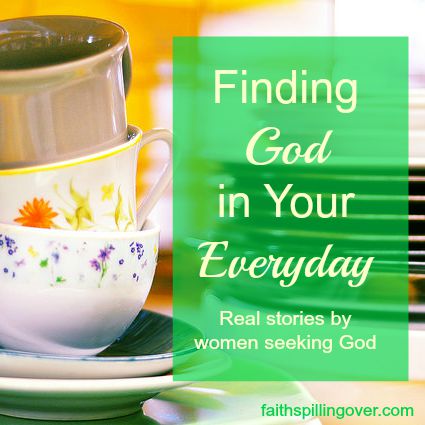 Welcome to "Finding God in Your Everyday," an August blog series. Each Tuesday a different writer shares a story highlighting how God shows himself to us in our everyday, messy lives. This week's guest is Kristi Woods, a friend with a knack for telling a good story that relates to our spiritual lives."
When You Don't Want What You Get
"Father, if you are willing, please take this cup of suffering away from me. 
Yet I want your will to be done, not mine."
Luke 22:42 NLT
The day bubbled with excitement. Family and friends from miles around gathered with both their presence and their gifts. It was wedding day.
I always had a strong will, a desire to "get what I wanted." It often created internal turmoil. Wedding day and its subsequent gift opening were no different.
Paper ripped. Ooo's and ahhh's filled the air. A cooler, towels, and cookware were revealed. Silverware was as well. I look back at the generosity and can certainly say, "We were blessed."
But there was one gift that didn't fit my trivial desire: the silverware. Its nice, somewhat common pattern didn't match the registry. I was disappointed.
Receiving the unwanted is sometimes life's reality. Getting what we don't want is, at times, exactly what we need.
Mom taught me to be gracious, and I was…on the outside. In the shadow of graciousness, I tucked the new pattern into our silverware drawer and put the utensils to use. Only later did I realize what a perfect fit the new silverware was.
I thought I wanted a sleek, contemporary pattern. It ended up being a horrible solution for my family. It didn't fit well in either my husband's or my grip. The nice, sleek pattern slid right out of our hands, and so did the food! So much for function. So much for good.
The pattern that birthed disappointment became the appointed one. Although it wasn't what I expected or thought I wanted, the gift-giver knew better. (I dearly love that gift giver, by the way.) The silverware was just right for our two-person family; we loved it and used it well.
It's often best we don't always get what we think we want – silverware, ministry, talent, or otherwise. It's best to get what God desires.
Setting his face like flint, only speaking and acting in the Father's will, Jesus submitted. He trusted. His feet stepped forward in our Father's will, taking his place upon the cross and showing us the way. Joy found Jesus and us on the other side.
A rejection now can feel heavy, nearly overwhelming, somewhat like the wrong pattern of silverware. But it might be the needed "gift" of strength-building for that which is coming.
The gift of a loving and truthful, albeit slightly hurtful, word from a precious friend might not be a choice selection, but it's often what our ears and heart need for the race.
Jesus' death didn't seem such a glorious gift at its onset. However, his resurrection and ascension proved powerful and beyond compare.
I long to be like Jesus. You too? Having a heart that pumps with trust for my Father's will and offering an open hand for whatever "silverware pattern" he sets in mine – that's how I long to be.
The fork and spoon reaction now brings a cringe. It was trivial. But walking in our Father's will is anything but trivial. Let's challenge one another to walk there.
Lord, Your way is right and brings life. Show me how to walk in trust, how to have an open hand for your will. In Jesus' name, Amen.
Now it's your turn: Have you ever gotten something you didn't want and later realized it was what you needed?
Kristi Woods loves a warm, sunny day and to write, read, and talk all things Jesus. She's passionate about seeing women walk deeper in their relationship with the Lord and clicks her words of encouragement onto the screen of KristiWoods.net regularly. Kristi, her retired-from-the-military husband, and their three children survived the nomadic military lifestyle and set roots, along with their furry, rescued pets, in Oklahoma. Connect with Kristi on Facebook, Twitter, and Instagram.