What strikes fear in your heart? In third grade, I was dead scared of Mad Madeline. I watched a B-grade horror movie without my parents knowing. Every night, I'd check under the bed to make sure she wasn't there waiting to get me.
I've long since grown out of my fear of Mad Madeline, but other things scare me. My stomach hurts, and I wonder if I have cancer. I worry that we might not have enough money. My husband's late, and I wonder if he had an accident. I'm afraid of trying a new project. What if I fail? I hesitate to reach out to a new friend. What if she won't like me?
Fear can paralyze us if we let it.
Fear comes from our enemy. Satan wants to tear us down, disable us, and stop us in our tracks, so he shoots darts of fear into our hearts.
But God is greater than our fears.
His Spirit whispers reassurance: "Don't be afraid, for I am with you. Don't be discouraged, for I am your God."
He repeats it over and over again to us in His word: "Fear Not."
We can rest assured because God is our Refuge and our Strong Tower. He's our Strength and our Shield. He has us in the palm of His hand. He treasures us and will care for us. He goes before us.  His power overcomes our greatest obstacle. His love supplies our deepest need.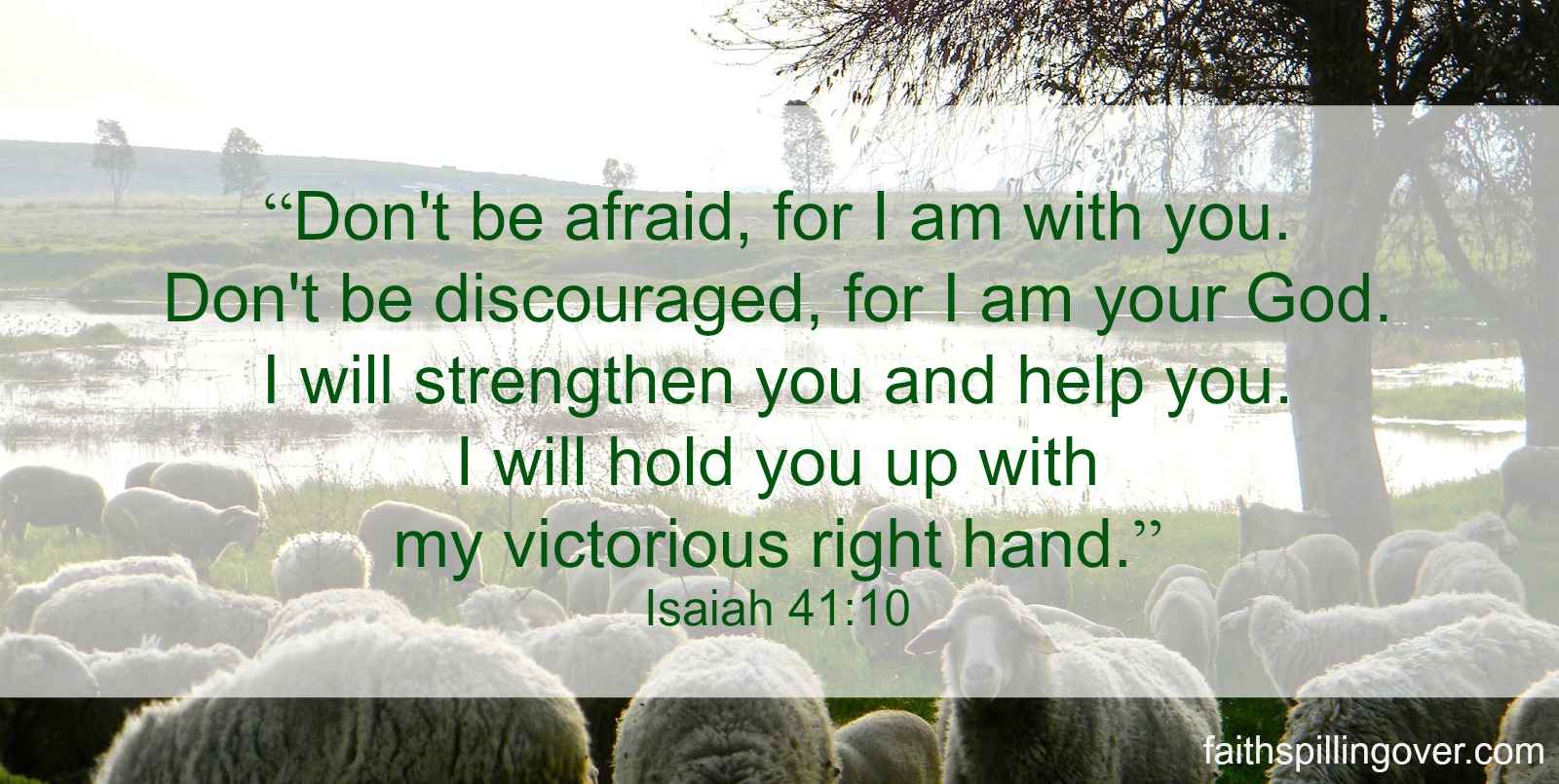 Three Truths to Put our Fears to Rest:
We're His Prized Possession
He Protects Us
He Provides for Us
We have a Shepherd who cares for us. He prizes us. He'll protect and provide for us. With Him at our side, we have nothing to fear.
What about you? Have you faced any fears lately? How does God put your fear to rest?
I'm linking up with Kate Motaung's Five Minute Friday. Writers all around the world join in a flash mob of free writing. This week's prompt is "Fear." Join us over at Kate's place for fun and encouragement. Also joining with Arabah Joy's Grace & Truth, and Barbie Swihart's Weekend Brew.
Did you enjoy this post? Subscribe to get fresh servings of Faith Spilling Over delivered to your inbox. Enter your e-mail address in the box at the top of this page.