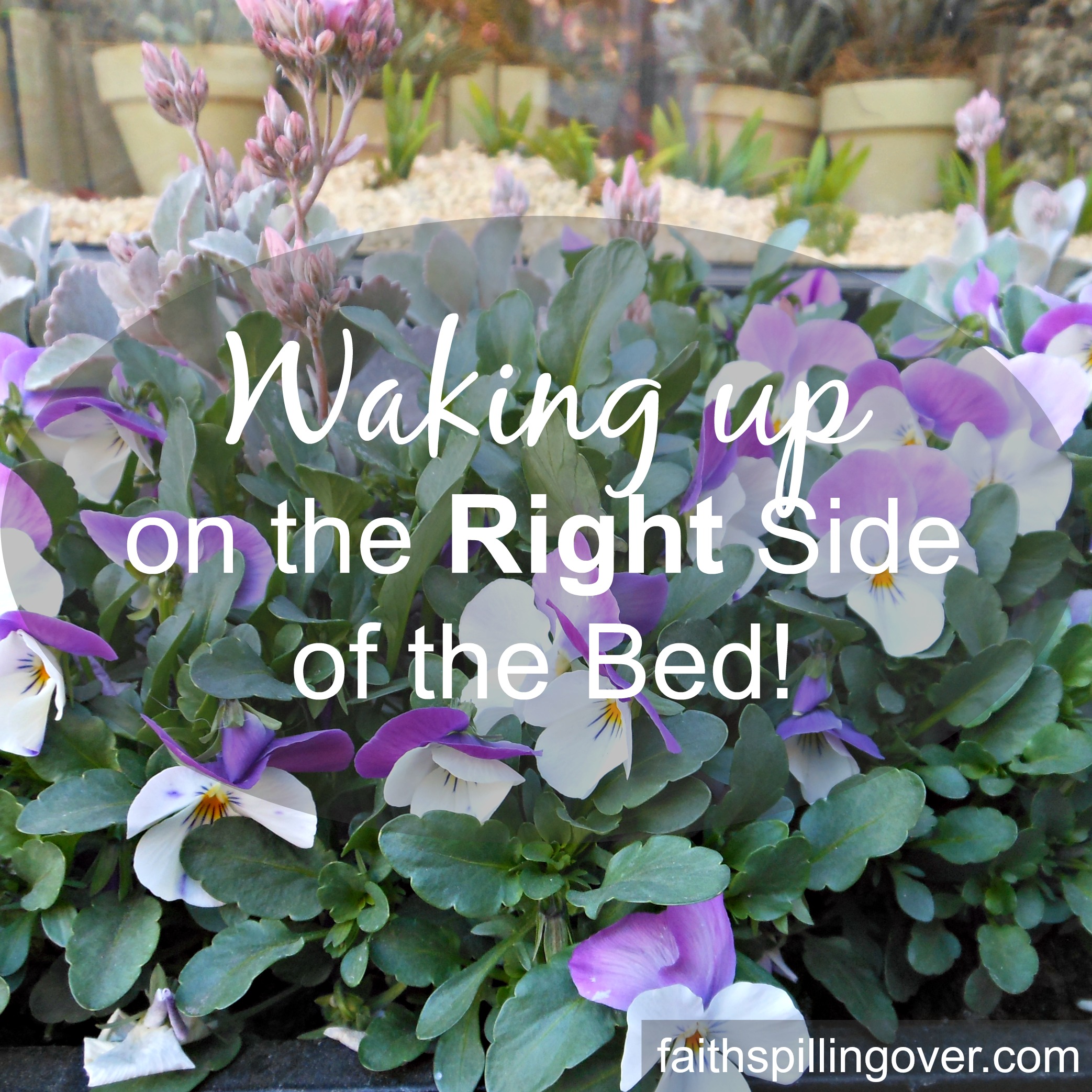 What's the first thought that pops into your head when the alarm goes off in the morning? Have you ever noticed how your first thoughts carry over into the rest of your day? When my alarm rings, it takes a few minutes for my brain to shake off the slumber. But by the time I crowbar myself out of bed, thoughts start popping up:
Wow, is it already morning? 
Do I really have to go walking?
I can't believe he said that yesterday.
How can I get my kids to do their chores?
I grope down the hall to the kitchen and the hope of coffee.  Some mornings, the voices of the world sneak up on me quick, like yesterday's to-do list half undone, or my afternoon dentist appointment.
Our first thoughts in the morning set the tone for our day.
We carry them with us. That's why I want to choose God and His word first thing when I wake up. God's voice carries power to jump start sluggish mornings; it can transform even the worst "I-don't-want-to-do-this" attitude. God says things like this:
"I am the Lord your God who takes hold of your right hand and says to you, 'Do not fear; I will help you." (Isaiah 41:13)
"I have loved you with an everlasting love." (Jer. 31:3)
 "For I know the plans I have for you…plans to give you hope and a future." (Jeremiah 29:11)
"You can do all things through Christ who strengthens you." (Phil. 4:13)
"The joy of the Lord is your strength." (Nehemiah 8:10)
If you're like me, it takes an effort to hear God's quiet voice, yet your own thoughts come crowding in loudly all by themselves. C.S. Lewis said that when you wake up "all your wishes and hopes for the day rush at you like wild animals. And the first job each morning consists simply in shoving them back; in listening to the other voice."
I want to wake up to God's words and not my own. I want to let His Spirit direct me into my day.
Simple ideas for getting a good start on the day:
Say good morning to God before you get out of bed.
Hum a worship song while you make coffee.
Listen to the birds singing outside.
Thank God for three things.
Repeat a favorite Bible verse that you've memorized.
Read a short devotional.
Pray for God's Holy Spirit to fill you and direct you as you think of the day ahead of you.
These are just a few ideas, not a 1, 2, 3 to-do list. One or two baby steps can get our day started in the right direction. God's already there waiting for us when we wake up, so how about starting off the day with a simple prayer? "Good morning, God. Here I am. Fill me with your Spirit and help me to live for you today."
I'm writing this to myself right now. After a lovely spring break family vacation, I've had a hard time getting back to real life. Getting myself up in the mornings feels like trying to raise the dead, but I'm looking to God to renew my attitude with each new day!
Now it's your turn: Do you ever wake up on the wrong side of the bed? What helps you to get a good start on your day?