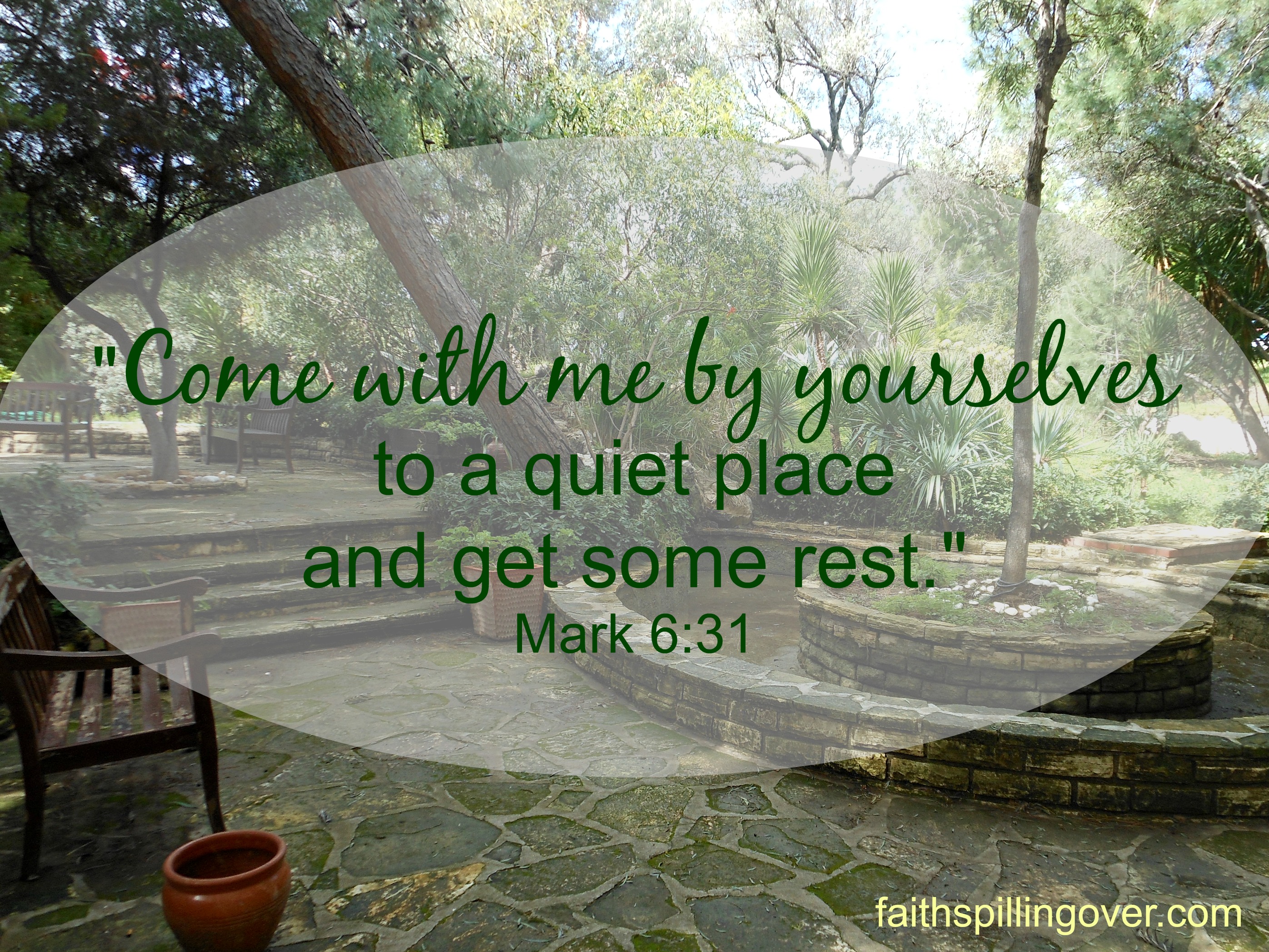 Even Jesus took a break once in a while. Or at least He encouraged His disciples to. In Mark 6, so many people were coming and going that the disciples didn't even have a chance to eat. Does that sound familiar?
We women can get so busy with multi-tasking that we hardly take time to eat. We answer e-mails, go to meetings, and rush to get things done while we talk on the phone at work. Work-at-home moms answer email and finish projects while home schooling or cooking lunch. Then we run out to carpool our kids and do errands. Some days if feels like we hardly have time to take a potty break, let alone eat!
We all need to stop and take a break once in a while.
When I worked as a secretary years ago, coffee break was an institution. Everyone sat down at 10:30 a.m. and at 3:30 p.m. for 15 minutes to chat over coffee or a soft drink. Now that I've been a stay at home mom for years, I have no idea how many working people take regular coffee breaks.
 I do know this: I wish I had the discipline of taking regular breaks in my day!
Taking regular breaks adds balance to life. Taking a break gives us a chance to breathe, to clear our minds, and get a few minutes of physical and mental rest. We can take a break because we trust God will help us accomplish what we need to when it's time to get back to work.
The next time you feel tired, how about taking a break?
Take a power nap.
Listen to music.
Drink a cup of tea.
Sit down to read your Bible or pray.
Put your feet up.
Grab 15 minutes with a good book.
Call a friend for a quick update.
Go outside and walk around the block.
You'll feel better when it's time to return to work. If Jesus took a break once in a while, I think we can too!
Now it's your turn: Do you take regular breaks from work? What do you like to do?
I'm linking up with Kate Motaung's Five Minute Friday. Writers all around the world join in a flash mob of free writing. Five minutes. No editing. This week's prompt is "Break." Join us over at Kate's place for fun and encouragement.
Also joining with Grace & Truth, and The Weekend Brew.
Did you enjoy this post? Subscribe to get fresh servings of Faith Spilling Over delivered to your inbox. Enter your e-mail address in the box at the top of this page.