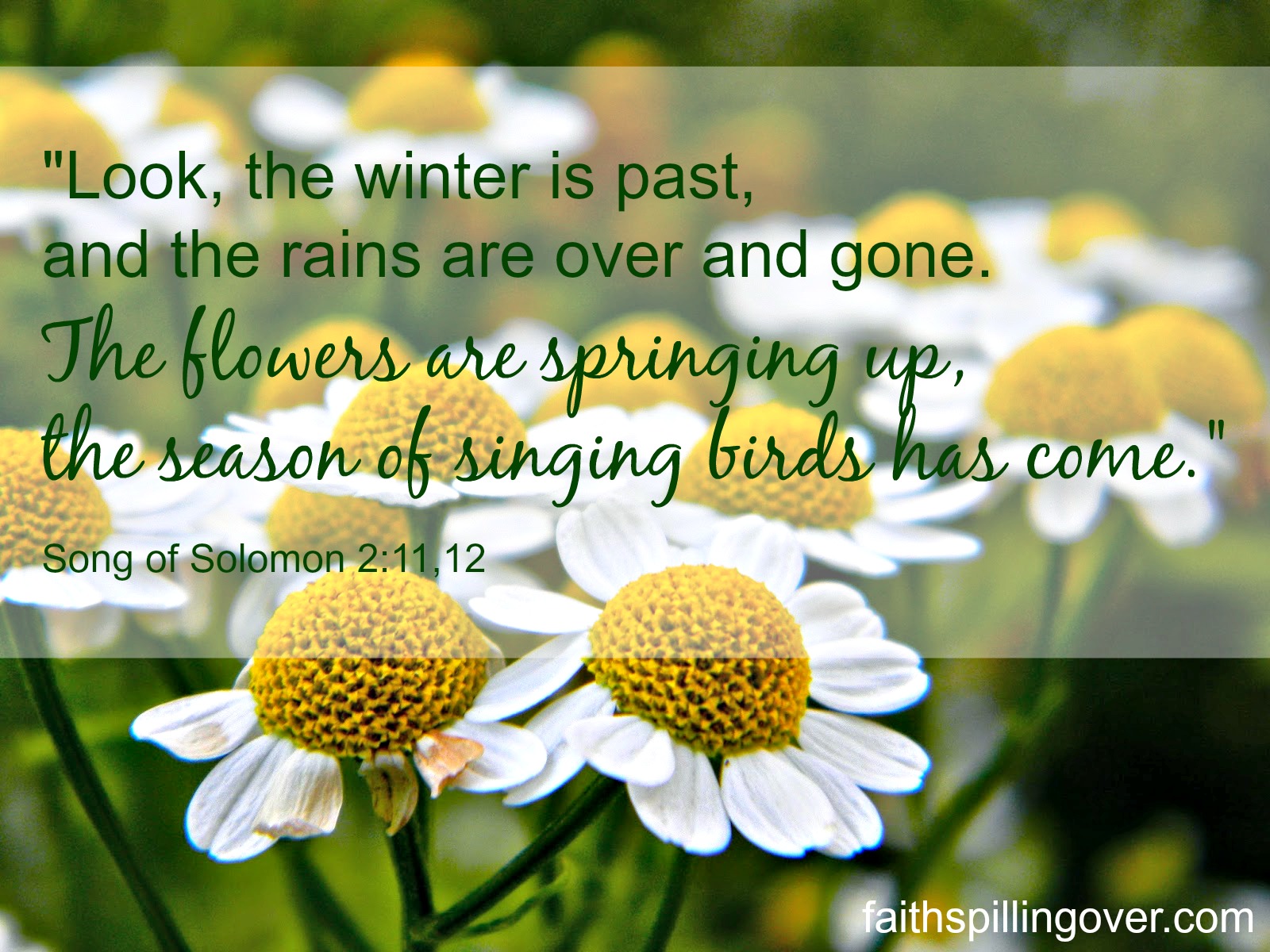 Spring ushers in welcome changes after dark, icy winter. When I behold sunny blue skies and budding trees, it brings a new bounce to my step.  But where I live, spring is slow in coming. Yesterday we had a gorgeous sunny day; today however, overcast skies drizzle down gray. I'm reminded that my heart could use a bit of spring too.
If you're like me, months of cloudy skies and fewer daylight hours can bring on a case of the doldrums. I'm ready to sweep out the cobwebs of winter and celebrate new life and renewal this spring. How about joining me?
 6 Ways to Get More Spring in our Hearts:
 Get Outside
Going outdoors for a walk in the sunshine lifts my spirits. Now is the perfect time to take a family hike or go on a weekend picnic. Make it easy. Even if it's just picking up Egg McMuffins at the drive through and eating breakfast in the park on a Saturday, it's still a picnic!
Get Physical
It's time to rev up our sluggish metabolisms and maybe shed a few extra pounds that piled on while we were homebound. (That's for me.) Join a gym, or better yet, take your exercise routine outside.
Bring Nature Inside
Cut a few blooming branches or sprigs of new growth off of a tree and bring them into the house. Buy a grocery store pot of bulbs or a bouquet of spring flowers. Make a DYI terrarium or a mini succulent garden for your living room.
Tackle Spring Projects
A small spring cleaning project, like taking down the kitchen curtains to wash them, can add a lift to your spirit. Set aside 15 minutes a day to clean out the garage or declutter your bookshelves. A new sense of order brings peace to your soul.
Make time for Self-Care
Take time for hobbies and interests that you enjoy. Get a new haircut or a pedicure. Splurge on some new makeup. Banish the winter grouchies by making sure you get enough rest at night to be a happy camper by day.
Revive Your Spirit
The best renovation of all is the spring God brings to our hearts. Budding trees, singing birds, and newly green grass remind us of how God renews our spirits when we seek Him. Hosea 6:3 prompts us to pursue God with more passion: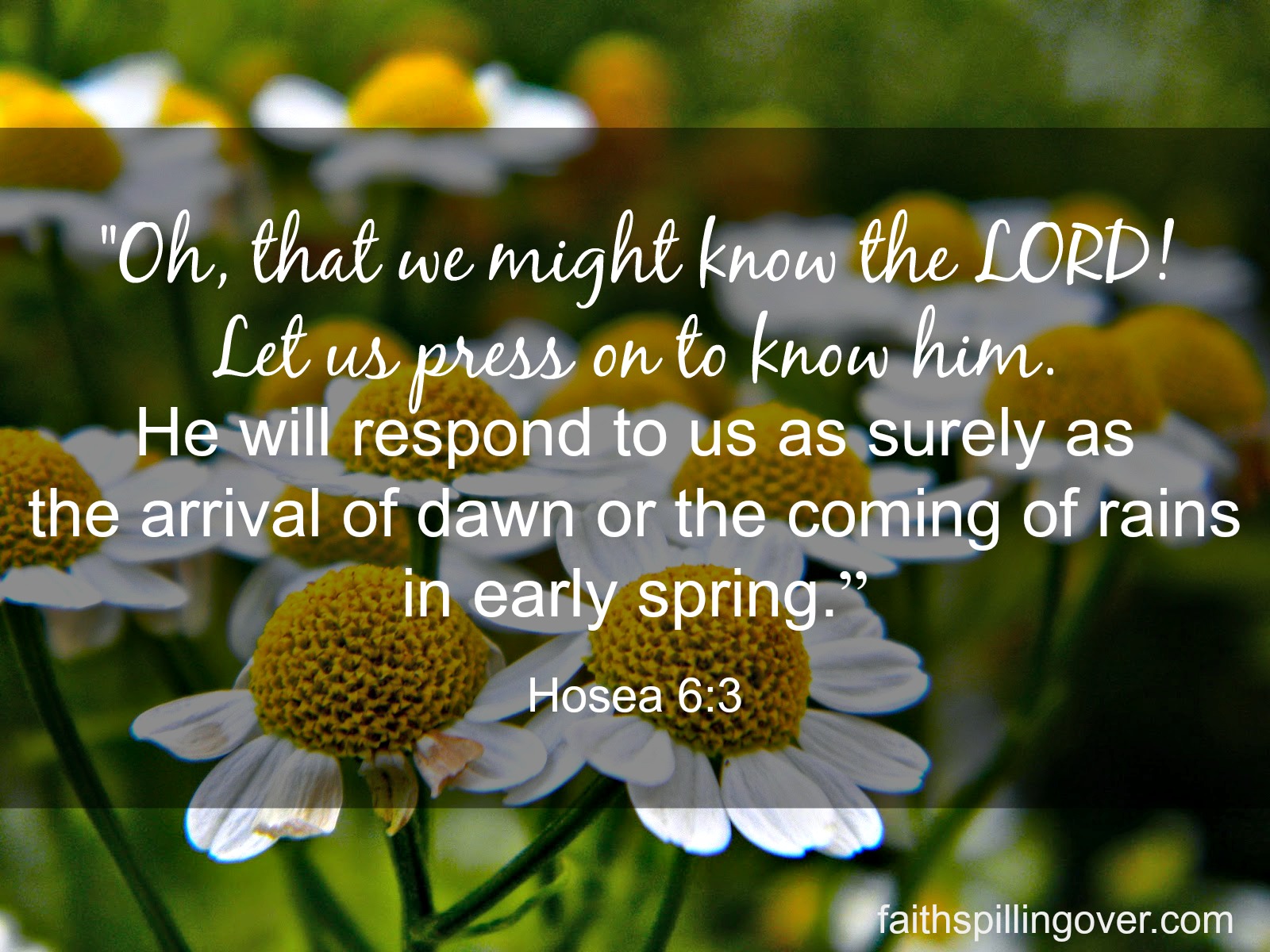 What brings freshness to your spiritual life? How about enrolling in a new Bible study or reading a Christian book on a subject you want to grow in? I like to change things up in my quiet time to bring new freshness to my relationship with God.
Here are some suggestions to revive tired quiet times:
Move it out to the back porch, and see if nature doesn't inspire a deeper connection with God.
Start by singing a quiet—or loud!–  song to worship Him.
Read scripture out loud.
Use colored pencils to mark up your Bible.
Check out this post: 10 Tips for Getting out of a Bible Reading Rut.
As we take steps to press on to know Him more, God responds to us. He wants to bring more spring both to our step and to our hearts.
Now it's your turn: What do you like to do during the spring to bring an extra lift to your spirit?