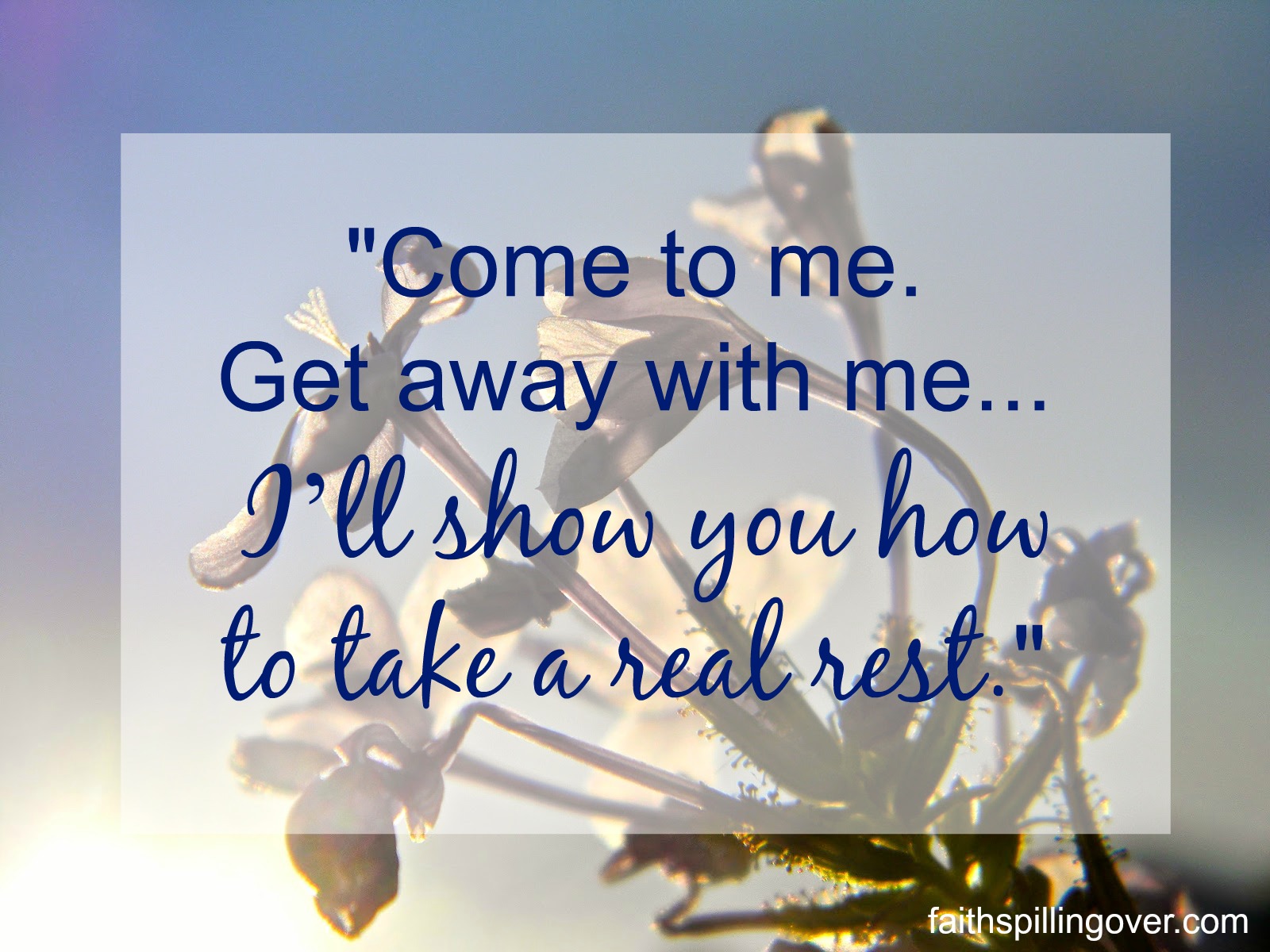 Do you ever wake up on Monday morning to start a new week even more tired than you were the Friday before? It happens to me all the time. My son must feel the same way because every Tuesday morning at breakfast he prays, "Oh God, thank you that it's not Monday anymore!"
God planned for the Sabbath to be a day of rest, but I often fill my Sundays with housework, chores, and errands, so that I sabotage the Sabbath God intends for me. God ordained a healthy rhythm of work and rest, so that we could be refueled, but we refuse that rest in so many ways: we fill our days with back-to-back activities, we work at night from home, and we stay up late, all in an effort to get more done.
My word for 2015 is REST. I want to learn from Jesus how to take a real rest.
Real rest comes when we take regular time to be renewed by fellowship with Jesus. We need time every day in Jesus' presence. His life-giving Spirit refuels our energy and renews our perspective. Real rest comes when we take a Sabbath time weekly –whether it's Sunday or another day–  a time to slow down, enjoy our families, and focus on our relationship with God.
And when it's time to get to work?  Real rest comes when we walk and work with Him in an attitude of trust. We can trust that God will enable us to do everything He's calling us to. We can trust that God is faithful. He is at work when we leave Him our worries, instead of carrying them around with us. We can leave off working at a decent hour, spend time with our families, and lay our heads down to sleep at night knowing that God is in control. We don't have to make it all happen ourselves.
Real rest is what happens when you:
Streamline your life according to God's priorities.
Focus on the essentials and say no to other things.
Let go of being superwoman.
Now it's your turn: Do you every feel like you're struggling to be superwoman? What helps you to get the rest you need?
I'm linking up with Kate Motaung's Five Minute Friday. Writers all around the world join in a flash mob of free writing. Five minutes. No editing. This week's prompt is "Real." Join us over at Kate's place for fun and encouragement.

Also joining with Counting my Blessings, Grace & Truth, and The Weekend Brew.
Did you enjoy this post? Subscribe to get fresh servings of Faith Spilling Over delivered to your inbox. Enter your e-mail address in the box at the top of this page.