I'm looking ahead to the day all parents lament and look forward to: my oldest son Andres will leave for college in August.  Doubts pop up in my mind: Will he clean his dorm room? Will he live on pizza and popcorn all year? Will he wash his sheets? These nagging worries pale in comparison with the biggest question:
Will He continue choosing the faith that his father and I have taught him?
Will he live by the principles and practices we've sought to instill: honesty, integrity, daily scripture reading, going to church, and choosing to preserve the sanctity of sex by waiting until marriage?
It's sobering to realize we only have six months left to prepare our son to stand on his own. Of course coaching our kids is a process that starts when they're little. Day by day choices we make to invest in them add up to years of preparation.
How Can We Encourage Life-Long Faith in Our Kids?
After 17 years, I'm still a mother-in-training, but this is what I'm learning:
Model it
We can't pass on what we're not living ourselves. Our example speaks louder than a thousand words. Are we doing our utmost to put God first?
Here's where the enemy attacks us. Because we blow it. We blow our stack and respond harshly. Satan whispers, "What kind of parent are you? You're messing this kid up."
God says, "Today is a new start. You blew it yesterday. Ask your child for forgiveness, and start over." Acknowledging our failure sends a loud message to our kids. Transparency and humility make our faith authentic.
Pass on the Word of God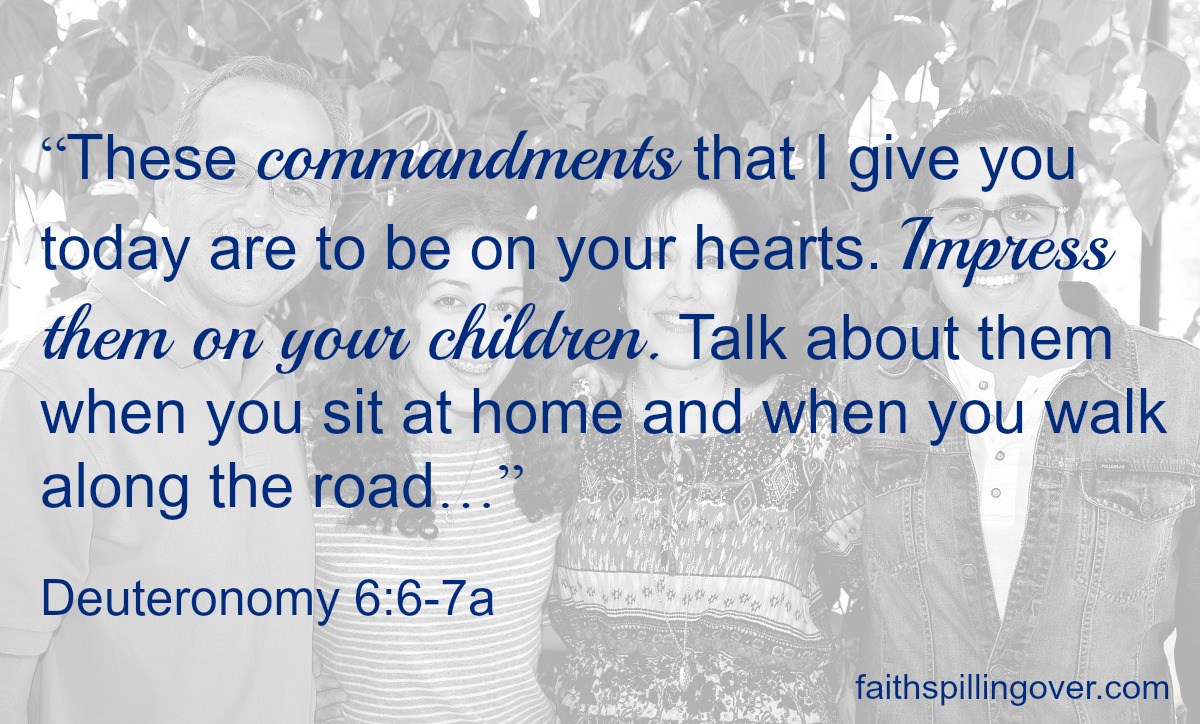 The most valuable legacy we can leave our children is a love for God's Word and a commitment to living it out.
Starting from when our kids were small, my husband and I began reading scripture with them daily. We started with a toddler's Bible. Each page had a picture and two sentences. They could sit still about 3 minutes for Bible time and a quick prayer before they'd start hitting or tickling each other!
Later we graduated to the Beginner's Bible, longer Bible story books, and the NIV version. Now everyone reads scripture on their own each morning, and we discuss it over breakfast. Sometimes my kids' insight surprises me.
Cultivate Relationship
Spending time together creates relationship and provides opportunities to talk about our values and what God is teaching us. I'm no expert, but I hope to have an open, listening attitude, so that my kids can talk to me about anything.
Nevertheless, parenting is exhausting. It's easy to shut down and park ourselves in front of the TV or computer. Whether they want to engage in a game of Candy Land or a dialogue about gay rights, being available and responsive creates connection with our kids. A mother I admire used to take one child a week on a mom date.
As my husband and I think about Andres leaving home, we choose to trust our All-Powerful God. He cares for our son more than we do. Ultimately, praying is the most important thing we can do. Join me next Tuesday for "Seven Ways to Pray for Your Children."
Now it's your turn. What thoughts do you have about encouraging our kids' faith?
Linking up today with Holly Barrett's #TestimonyTuesday, Kelly Balarie's #RaRaLinkup, Meredith Bernard's Woman2Woman, and Holley Gerth's Coffee for Your Heart, and Jennifer Dukes Lee's #TellHisStory Join us for more encouragement.