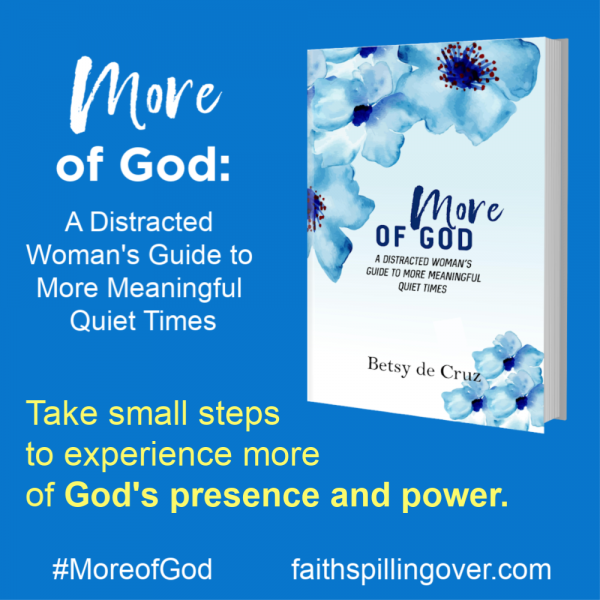 About More of God
Most of us long to experience more of God in our daily lives, yet we're too distracted by a busy schedule, our own anxious thoughts, and even social media to hear His voice. We can't slow down long enough to receive what God wants to give us.
Betsy de Cruz has learned that opening small windows to invite God in can make a big difference in our day. In More of God, Betsy invites us to a fresh sense of God's presence as we rediscover:
How spending 20 minutes with God leads to more peace and joy all day
Ways to conquer distraction and grow our prayer lives
Simple solutions to help us hear God's voice as we read Scripture
Creative ideas for making quiet time a delight instead of a duty
Hope and help when life gets too hard to have a quiet time

Two Resources for Bible Study and Book Club Leaders (Click on images to download.)
This 7-week guide will takes you and your group through the both the book More of God and the Gospel of Mark. You'll have opportunity to try out ideas in the book as you read through Mark. Each meeting also includes an activity highlighted in the book.
What People Are Saying:
"In More of God, Betsy de Cruz writes with an engaging blend of personality, humor, spiritual depth, and practical help for equipping women to draw closer to God through a regular quiet time. Honest and relatable, Betsy shares her own challenges with distractions and unpacks a variety of strategies and tools for mental focus and increased depth in Bible reading, reflection, and prayer. With good instructions and creative ideas, Betsy fills our toolbox with both standard Bible study tips as well as many I have not seen before. I love discovering new ideas for enhancing my time with God!"
—Ginger Harrington, author of Holy in the Moment: Simple Ways to Love God and Enjoy Your Life, co-founder of Planting Roots: Strength to Thrive in Military Life
"I love Betsy's honesty about her own struggle with distraction in her daily walk with Christ—I can totally relate!  Her book will help you create space and recapture the joy of regularly quieting your soul and basking in all that God has for you.  My favorite quote? 'God whispers louder than the world's noise, if we'll only listen.'"
 —Jenny Adams, Women's Ministry Coordinator, Park Springs Bible Church, Arlington, Texas
"Betsy de Cruz helps distracted girls like me discover do-able strategies for Bible study. I loved the hands-on ideas to help me move from "dullsville" to "delight" by spending just 5 to 15 minutes a day in the Word. I will be taking a personal mini-retreat soon with my colored pencils and new prayer journal to create my prayer map. This book is a treasure, and I plan on sharing its practical wisdom with all my girlfriends."
—Lyli Dunbar, writer, speaker, and coach, Proverbs 31 Ministries First 5 writing team
"I have a short list of women I dream of meeting one day. Betsy is on that list. Her years of seeking God have rewarded her with a deep understanding of our King. This book shows how to discover "daily outpourings of fresh grace" by learning how to connect with God. The practical, down-to-earth tips Betsy shares are perfect for both new believers as well as more experienced Christ followers. I've come away with several new ideas I can't wait to implement! I highly recommend this book to any sister hungry for more of God."
—Arabah Joy, author of Trust without Borders and Praying the Promises, online mentor at Arabahjoy.com
"Though Betsy de Cruz and I have never met or lived in the same city, we are sisters in the same spiritual sorority. As a kid she wanted to be a nun; I wanted to be a monk. As adults we both hunger for quiet time and a closer relationship with God. But family-life, lengthy to-do lists, and short attention spans continue to vie for center stage. In her confessional, humorous, and wise book More of God: A Distracted Woman's Guide to More Meaningful Quiet Times, Betsy offers distracted soul sisters practical and accessible ways to return God to the center of our lives.
—Sybil MacBeth, author of Praying in Color: Drawing A New Path to God and The Season of the Nativity: Confessions and Practices of an Advent, Christmas, and Epiphany Extremist.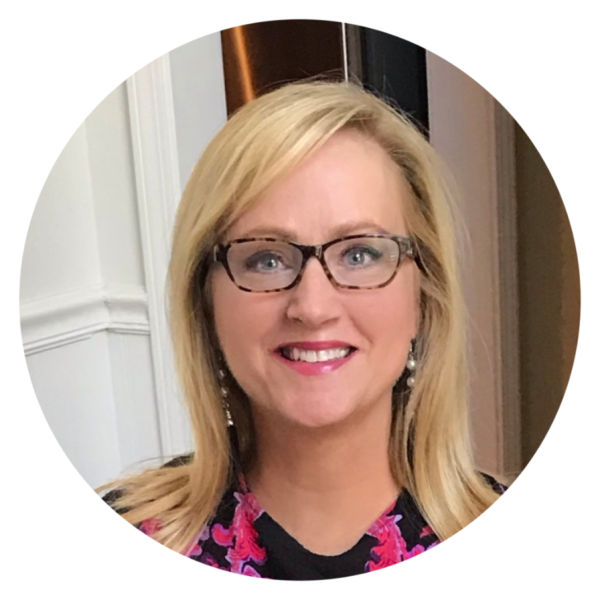 "Would you like to begin to really enjoy your life more? This book can help! Betsy de Cruz shows you how to find meaning in life by making more of your relationship with God. Through wonderful stories, Scripture, examples, and practical tips, you will discover how to create ample space in your life to enjoy God's presence. Whether you are a new believer or you've been walking with the Lord for years, you will benefit from reading these pages. I whole-heartedly recommend this book!"
—Melanie Redd, women's ministry leader and speaker, author of How to Win Your Child's Heart for Life and Stepping Closer to the Savior
"I was hooked from the first page of the introduction as if Betsy had a view into my own daily struggles to stay focused and keep prayer a priority each day. I write and teach about prayer, yet I, too, get distracted from prayer – regularly! I loved learning Betsy's approach to many of my personal favorite ways to pray, along with some new ideas I can't wait to try. If you struggle to focus in your prayers or pray consistently, you're not alone. Take heart from Betsy's down-to-earth encouragement and find more focus and depth in your prayers!"
—Kathryn Shirey, author of Pray Deep: Ignite Your Prayer Life, speaker, and prayer mentor at kathrynshirey.com
Share the Message on Social Media