My Favorite Spring Reading
On this page, I curate for you books that I've read recently or books that I love and recommend for encouragement and spiritual growth. I'll update it each month, so come back for new recommendations! Click on the links or the images to find out where you can buy these:
I can't recommend this book enough! Reading The Next Right Thing is like having Emily P Freeman at your side as your personal life coach. As I read through this book, I had so many "Aha!" moments where I felt a flash of inspiration, clarity, or a renewed sense of peace and calm. (Click on image.)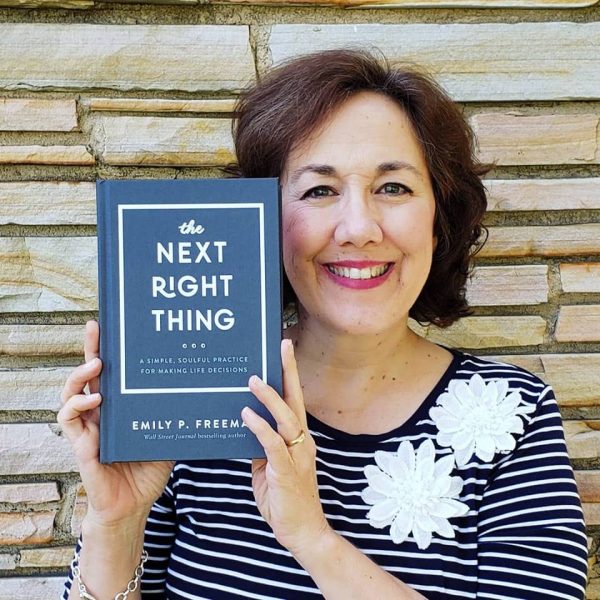 Time and again, The Next Right Thing helped me see my life from a new viewpoint and even addressed a few questions I had in the back of my mind without really realizing it.
Each chapter ends with a prayer and a soulful practice. These helped me put Emily's ideas to work in my own life. The book was helpful to me because I'm navigating a major life transition, but I'd recommend it to anyone seeking to cultivate a sense of calm in the midst of a busy life.
This book by my friend Lauren Gaskill encourages me that we can learn to live by faith even when life gets hard. Lauren has faced anxiety, depression, and chronic illness, yet her joyous spirit is contagious. She shares personal stories, scripture, Biblical wisdom, and practical tools for learning to conquer our fears and doubts to follow Jesus with courage, faith, and joy. Even when we feel like we're over our head in deep water!
Lauren has a warm, conversational style, and she is honest about her own fears and doubts, so you feel like you're talking with someone who understands you and who you can relate to as well.
I haven't read Jennifer Dukes Lee's new book yet, but I can't wait. I know I need this book because the subtitle says it all. Jennifer's describes herself as someone who thought she didn't have a problem with control because she was totally flexible. As long as everything went the way she wanted. Sounds just like someone I know.
I love Jennifer's books because she tells great stories, connects with her readers, and she shares practical application steps along with truth from Scripture.
The Spirit-Led Heart by Suzanne Eller reminds us we have a Helper and shows us how to receive that help God wants to give us. It's encouraging me to walk in a closer relationship to the Holy Spirit and let Him empower me, show God's love to me, and guide me to impact the people around me.
What I loved best about this book was that each chapter ends with a Scripture verse, a promise, an invitation to live it out, and a prayer to ask the Holy Spirit for help. I finished it in May, but want to read it again this summer. It was that good.
Katie Reid's new book is good news for busy and tired women! Katie gives us a fresh slant on the, story of Mary and Martha from Luke 10. Instead of reprimanding us modern day Martha's for not being more like Mary, it encourages us to embrace the way God created us and find new rest and grace for living in Him.
Katie's great story-telling and practical wisdom makes this book easy to read. I found many practical ideas that help me find a balance between work and rest, as well as Biblical teaching that speaks strength and peace to my soul. It reminds me I'm a loved daughter of God.
I love this book by Elizabeth Gilbert; it's one of the most delightful books I read this year! I want to clarify that it's not written from a Christian viewpoint, but I'm finding it so inspiring and fun to read that I'm including it here. For all my writer friends, this is a must-read, but you don't have to be an artist or consider yourself a creative to read it.
Big Magic encourages us to make time for what we enjoy or dream about doing. This book will inspire you to be brave, live freely, and continue learning new things.
Rachel Macey Stafford's book Only Love Today influenced me more than any other book I read last year. Only Love Today offers short daily readings that will inspire you to love, listen well, be present, and give grace to others and to yourself. Written by a mom of pre-teens, this book encouraged me to make small daily choices to love my young adult kids, husband, and others close to me.
Ginger Harrington's book Holy in the Moment encourages us to make small daily choices to Believe, Choose, Love, Abide, Surrender, and Rest in God moment by moment. This book is not just about anxiety, but Ginger's transparent sharing about her battle pulled me in from chapter one. If you feel overwhelmed, anxious, stressed out, or burned out, this book will help you find refreshment and renewal. Each chapter ends with a list of practical ideas you can try today to draw near to God and enjoy your life.
Note: This page contains Amazon affiliate links. If you purchase products through my links, I make a small commission towards the expense of running this site at no extra cost to you. You can find my disclosure policy at the bottom of this page.