My Favorite Books
On this page, I curate for you books that I've read recently or books that I love and recommend for encouragement and spiritual growth. Click on the links or the images to purchase or find more info:
Growing Slow invites us to step out of the fast track and let go of the pressure to do more and be more, so we can rest in the slow ways of God. Author Jennifer Dukes Lee compares the seasons of our lives with the growing cycle: planting seeds, growth, harvest, and rest.
I enjoyed the stories Jennifer tells from her own life and appreciated the fresh look at Biblical stories and parables related to growth. Each chapter ends with reflection questions that help us see our lives in a new light and surrender to God's plans rather than grasp tightly to our own expectations.
Growing Slow helped me reflect on how the truly important accomplishments in my life have happened slowly, over time. It helped me trust that even though I may not see results I want in certain areas of my life right now, God is still at work, and I still have hope.
If you feel stressed by the pressures of life in the fast lane, where you're trying to work harder and faster, this book will give you permission to take a slower path. It will encourage you to embrace what God is doing in your life rather than spin your wheels trying harder to make things happen yourself.
I've taken a peek at the first chapters of this book and can't wait to read more.  Anne combines beautiful stories from her own life with Bible teaching to encourage us to enjoy the Spirit's presence, rely on His power, embrace His purposes, and walk according to His precepts.
Here is a quote from Anne, "One of my deepest, richest joys has been discovering by experience who the Holy Spirit is in every step of my life's journey. Each name that He has been given—Helper, Comforter, Advocate, Intercessor, Counselor, Strengthener, and Standby—reveals another aspect of His beautiful character and has provoked in me a deep love for the One who is my constant Companion . . . Jesus in me."
This beautiful devotional book would make a great Christmas gift for any woman on your list. Based on Holley's book Fiercehearted, these 60 devotionals encourage women to receive God's love, claim their identity in Christ, and live out their faith with freedom, hope, and courage. This devotional is both inspirational and practical; it includes ideas and practical steps to help us apply truth.
Strong, Brave, Loved includes Scriptures, stories, quotes, lovely graphics, and space for journaling.
Jen Wilkin's book encouraged me to go deeper as I study Scripture and even showed me some mistakes I was making. I appreciate the reminder that the Bible is first and foremost a book about God. (That sounds simple, yet sometimes we make it a book about us.)  This book helped me refresh my Bible study skills, and I know I'll refer to it again and again.
Jen teaches us several practical steps we can take to get more out of God's Word. One thing I love is how  she makes the steps to approaching Scripture easy to remember: Purpose, Perspective, Patience, Process, and Prayer. The chapter on process is my favorite since it outlines so many practical steps.
I can't say enough about Sarah Geringer's new book. I appreciated Sarah's stories from her own life and her practical insight into how we can use Scripture to transform our negative, fearful, or anxious thoughts. Each chapter focuses on a different kind of battle in our thought life, for example, fear, anxiety, criticism, poor self-image, regret, anger, or thoughts of defeat. The chapters include encouragement, a specific Christian meditation exercise based on Scripture, helpful related Bible verses, and reflection questions.
I love this quote from Sarah, "Day by day, as you hide God's Word in your heart, you will move closer to the heart and mind of God." When we move closer to God's heart, He tames our worries and negative thoughts.
Heather Holleman surprised and delighted me with an inspiring, original message I'd never heard before: God has already seated us with Christ in the heavenly realms. So therefore, He has freed us from the pressure to seek beauty and wealth, or prove our worth through achievement. He makes us radiant as we adore Him, access His heavenly riches and seek to abide in Him.
A life-altering message based on Ephesians 2:6, Seated with Christ is the best book I've read this year. In fact, I already need to read it again. (And that's something I rarely say about a book.)
I loved Humble Roots by Hannah Anderson for it's fresh, original message! (I love it when an author shares something I've never heard.) I also loved her stories about gardening and life in rural Virginia; her narratives woke nostalgia in me, gave me a sense of peace, and brought a smile to my heart.
My main takeaway from the book was this: humility is an antidote to stress. When we recognize we are not God–sounds simple, but how often do we try to manage, control, and take responsibility– we can find rest in humble surrender. We don't talk much about pride and humility in the church today, and Hannah offers a fresh slant on humility from many angles.
This book revolutionized my view of Sundays and Sabbath rest. (It's the book that inspired me to start reading and taking naps on Sundays!) If you're feeling frazzled, overcommitted, and weighed down by life, it will help you find refreshment in God.
I've been applying what I learned from Shelly Miller for several months now, and I actually look forward to Sunday afternoons now. I'm also enjoying Monday more since I'm starting the week with a better rested mind and body.
I can't recommend this book enough! Reading The Next Right Thing is like having Emily P Freeman at your side as your personal life coach. As I read through this book, I had so many "Aha!" moments where I felt a flash of inspiration, clarity, or a renewed sense of peace and calm. (Click on image.)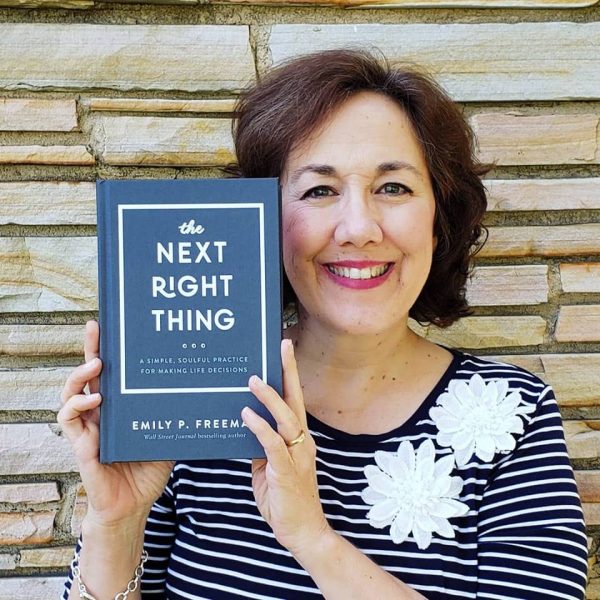 Time and again, The Next Right Thing helped me see my life from a new viewpoint and even addressed a few questions I had in the back of my mind without really realizing it.
Each chapter ends with a prayer and a soulful practice. These helped me put Emily's ideas to work in my own life. The book was helpful to me because I'm navigating a major life transition, but I'd recommend it to anyone seeking to cultivate a sense of calm in the midst of a busy life.
The Spirit-Led Heart by Suzanne Eller reminds us we have a Helper and shows us how to receive that help God wants to give us. It's encouraging me to walk in a closer relationship to the Holy Spirit and let Him empower me, show God's love to me, and guide me to impact the people around me.
What I loved best about this book was that each chapter ends with a Scripture verse, a promise, an invitation to live it out, and a prayer to ask the Holy Spirit for help. I finished it in May, but want to read it again this summer. It was that good.
Ginger Harrington's book Holy in the Moment encourages us to make small daily choices to Believe, Choose, Love, Abide, Surrender, and Rest in God moment by moment. This book is not just about anxiety, but Ginger's transparent sharing about her battle pulled me in from chapter one. If you feel overwhelmed, anxious, stressed out, or burned out, this book will help you find refreshment and renewal. Each chapter ends with a list of practical ideas you can try today to draw near to God and enjoy your life.
Note: This page contains Amazon affiliate links. If you purchase products through my links, I make a small commission towards the expense of running this site at no extra cost to you. You can find my disclosure policy at the bottom of this page.