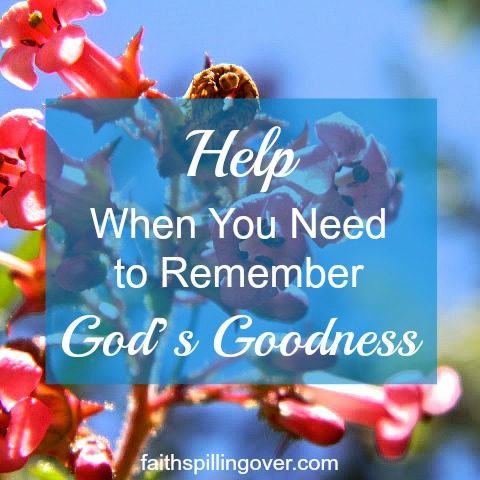 Forgetful could be my middle name. Sometimes, I dial a number and forget who I'm calling while the phone rings. Talk about awkward. Or I go into the kitchen and forget what I wanted. I take off my glasses and lose them. My dad used to say I'd lose my head if it wasn't tied to my body.
I may lose things, but I never want to lose sight of what God's done for me.
I'm just like the Israelites in the Old Testament: "When our ancestors were in Egypt, they gave no thought to your miracles; they did not remember your many kindnesses, and they rebelled by the sea, the Red Sea." (Psalm 106:7)
When I'm facing Red Sea challenges, it's easy to forget God's miracles and kindnesses. Often I look at the mountain in front of me instead of at the God who stands behind me. I forget His hand on me. I focus on the problems around me instead of on the God whose Spirit lives inside me.
Sometimes it's not even a mountain in front of me. It's a little molehill that takes on gigantic proportions. When I bend down and look at it long and hard, it grows.  I lose sight of the big picture of God's love and faithfulness.
Because seriously, spiritual amnesia is a thing with me.
That's why I'm trying to remember this:
We need to thank God, so we don't take for granted what He's done. We need to tell our stories, so we don't forget them. We need to tell them to our kids, our parents, and our friends. Maybe most of all we need to tell our stories to ourselves, to help us remember God's goodness and love.
Here's one of my stories that helps me remember:
Last spring, I went through a cancer scare. I was scared for my life and for the mounting medical bills. One day my husband and I ate lunch with friends we hardly knew. Later I was shocked to discover they'd slipped $1,000 dollars into my purse. The next day I went in for a CAT scan, and the receptionist asked for a co-pay of $1,000. God had known I'd need that money before I did. Not only did He sustain me every day for two months until I found I didn't have cancer, He also provided for every bill.
I bet you have stories to tell too.
What Red Sea are you looking at today, friend?
Maybe it's a flood of trouble, or a pool of tears you've cried over a child. What mountain is in front of you? Maybe it's a pile of bills waiting to be paid, a heap of hurt from a bad relationship or a mound of disappointment from a prayer that seems to go unanswered. No matter how big that Red Sea in front of you looks, remember God stands behind you and His Spirit is in you.

How about looking back at God's faithfulness?
Sometimes we need to tell ourselves our story all over again. What has God already done for you? The same God who showed himself faithful in the past will show up in your life again.
How about telling someone else one of your stories today? It just might encourage you as well as them.
Now it's your turn: Do you have a story of God's faithfulness? What has He done for you lately?
If you'd like fresh servings of Faith Spilling Over delivered weekly to your inbox, enter your e-mail address in the box in the sidebar. I'd love to send you my free guide, 10 Days to More. You'll find 10 ways to study and engage with God's Word.
I'm linking up with Holly Barrett's #TestimonyTuesday, Kelly Balarie's #RaRaLinkup, Holley Gerth's Coffee for your Heart, Crystal Storms' #HeartEncouragement, and Arabah Joy's Grace and Truth. Check out these communities for more encouragement.