When my daughter was hit by a car, two angels clothed in human skin came to her rescue, reminding me we can always find grace in our bitter places. A car full of young guys listening to blaring music couldn't brake in time and knocked Camilla and another girl down in the street. But while the girls struggled to get up, an elderly couple got out of their vehicle and said, "We're taking you to the hospital right now."
"I'll be okay," Camilla said, but she was in shock and couldn't walk. The old woman somehow picked my daughter up all by herself and carried her to their car. Then this couple waited at the emergency room while medical technicians examined both girls. The only thing they found was that my girl had a sprained ankle.
I didn't even know about the accident until I got a crying phone call. Back in our living room later, I pieced together the story and tried not to be worried by the mindless ramblings of a girl in shock.
That elderly man and woman were bright spots of God's grace in a story that was hard to hear. They stopped in their tracks to help two strangers, and I'll be forever grateful.
Because the driver who hit my daughter didn't stop.
I'll never know how someone can just drive on without even stopping to see if two people he plowed down on the street are okay. But I do know I don't want to waste time wondering about it. For if I think about it too long, bitter poison will grow in my heart.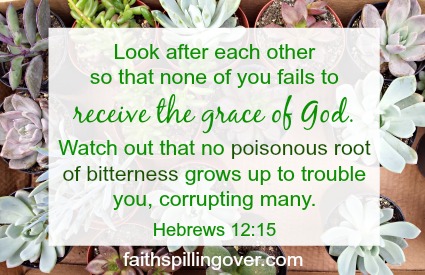 I'd rather embrace God's grace than hold on to my own bitterness.
Yes, the guy who hit my daughter drove on, and that was beyond uncool, but rather than hold that thought, I'd rather marvel over how God stepped in to redeem the situation through the kindness of two total strangers.  I'd rather thank Him for the miracle that my girl escaped with only sore muscles and a sprain.
What about you? What bitter place is threatening to drag your heart down?
A hard diagnosis, an impossible job, or a marriage gone sour can do harsh things to our hearts. Sometimes even a day gone south can leave a bitter taste in our mouth, but I'm learning that when I cling to dark thoughts, they make my situation worse. They darken my outlook and poison the atmosphere around me when I let them out of my mouth.
What glimmers of God's grace do you see in your situation today?
What evidences of His mercy do you see? Even when we have to look hard, we can always find a blessing to give thanks for. Maybe God wants to transform your bitter place into a fresh opportunity to see His grace.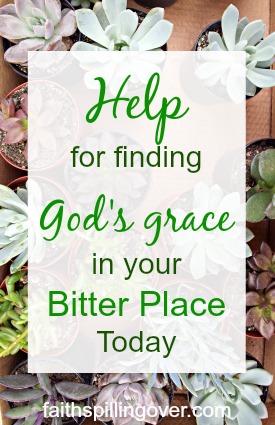 Even in our hard places, let's not miss God's grace.
No matter our situation, this is still true: "From his abundance we have all received one gracious blessing after another" (John 1:16,7 NLT). Instead of getting stuck in that hard place, set's ask God to open our eyes to His gracious blessings and give thanks for each one.
And when bitter thoughts come back—and they will—let's acknowledge them and tell our Father in heaven how we feel. Sometimes it helps to tell one other person and ask for prayer. When we ask, He'll wash our bitterness away with the sweet waters of His Holy Spirit.
If you're struggling through troubling circumstances, ask God to transform your bitter place into a fresh opportunity to see His grace. Look for one gracious blessing and give Him thanks. Let's not miss out on His grace today.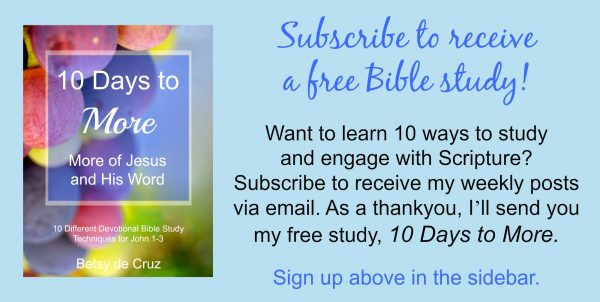 Linking up with Jennifer Dukes Lee's #TellHisStory.  Holley Gerth's Coffee for your Heart, Crystal Storms' #HeartEncouragement,  Brenda Bradford Ottinger's #ChasingCommunity, Lyli Dunbar's #FaithonFire, and Arabah Joy's Grace and Truth. Check out these communities for more encouragement.