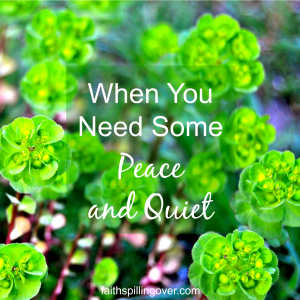 Just a moment of peace and quiet. Doesn't that sound heavenly?
When my kids were small, I used to tell myself, "If only I can make it until they go to bed. Then I'll be able to relax and enjoy a peaceful moment." But when they became teenagers, I couldn't stay awake until their bedtime!
Some nights I'd announce, "Mom's retiring at 9:30. See you in the morning." Then my husband and I could spend a few quiet moments with no loud music and no conversation about Woodstock, gay marriage, or Obamacare. (Our teens like to talk about a variety of topics.)
Peace and quiet are rare commodities in today's world.