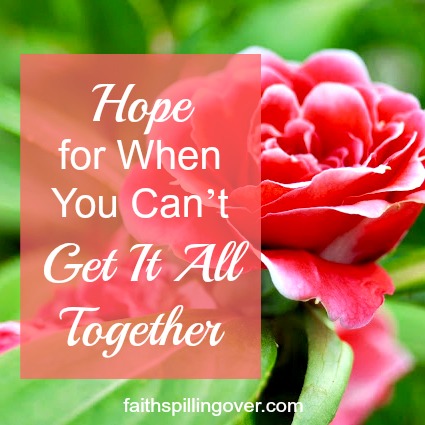 I keep thinking I'll get myself together any day now, but I can't seem to get around to it. I'm the mom who lets us run out of toothpaste and toilet paper, the pastor's wife who can be a real grouch, and the woman who's been on a low-carb diet for four months, only to lose a whopping 2.37 pounds due to constant cheating and binging on nuts. I'm that lady you've met four times, and I really did like you, but I'm so sorry I still can't remember your name due to my attention deficit.
Seriously, I might have real problems if I were trying to derive a positive self-worth from having it all together. I know God made me fearfully and wonderfully, but I don't feel so amazing when I pare down my to-do list to three items a week, for the sake of productivity, and on Friday I sneak a look at the list, only to realize I haven't done one of those things. Not a one.
Some days I rock. Other days, not so much.