I am the absolute Queen of Absentmindedness. Even when I read Scripture.
When my kids were little, we'd laugh at Richard Scarry's absentminded storybook character, Grandma Cat. She'd enter the room in her cute cat apron with her cute cat spectacles perched on her head and say, "Has anyone seen my glasses?" Just like it did for Grandma Cat, absentmindedness gets me into lots of funny scrapes, but it doesn't help me one bit when I want to read Scripture to hear God's voice.
Grandma Cat never paid attention to where she put her glasses, and often I open my Bible with that same lack of attention. If I'm not careful, I can skim through my reading by rote, without really noticing what the Scripture is saying to me. Thoughts of my to-do list or yesterday's hard conversation occupy my mind and make it harder to hear God's voice while I read. Then after I'm finished, I wonder, "Now what was that all about?"
Does this happen to you too? We desperately need the wisdom and encouragement Scripture can give us, yet we have a hard time focusing on what we read! To combat absentmindedness, I'm trying to cultivate the secret art of paying attention when I open God's Word. Just a few small but mindful changes can help us get more goodness out of our devotional reading…
You can follow this link to join me over at PeacefullyImperfect.com today. I'm sharing 6 tips to help you get more out of reading Scripture and find the encouragement you need. You'll also find a printable for a simple Bible reading and journaling plan I wrote for you. Based on Psalm 119, it's called "Treasure God's Word."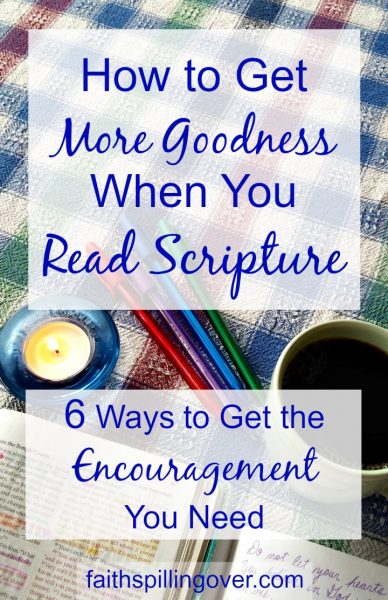 If you'd like fresh servings of Faith Spilling Over delivered weekly to your inbox, enter your e-mail address in the box in the sidebar. I'd love to send you my free guide, 10 Days to More. You'll find 10 ways to study and engage with God's Word.
Linking up with Jennifer Dukes Lee's #TellHisStory, Holley Gerth's Coffee for your Heart, Crystal Storms' #HeartEncouragement,  Brenda Bradford Ottinger's #ChasingCommunity, Lyli Dunbar's #FaithonFire, and Arabah Joy's Grace and Truth. Check out these communities for more encouragement.