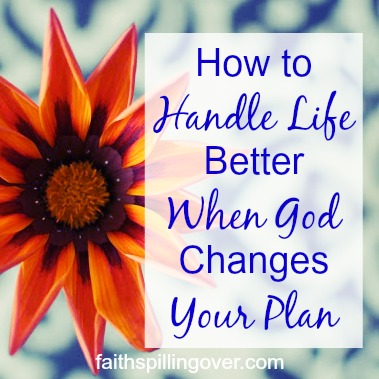 Sometimes life brings circumstances you didn't plan or hope for, and how do you handle it when God changes your plan?
I'm an organizer by nature. I love to make plans and to-do lists. But 9 times out of 10, my plans don't turn out quite as I expect. I might be skipping through my day making progress on my projects when God allows a change in my situation:
The car breaks down.
A child gets sick.
I get an emergency phone call.
I'm sure these things happen to you too, and I hate to admit sometimes I get bent out of shape when things don't go according to my plan. But I'm growing and trying to learn to adjust my expectations and accept each day as it comes.
We may not like the small setbacks that crop up in our day, but we can trust God's plan. We can trust Him to use those little disturbances to form Christ in us. I want to let go of my agenda graciously when God sends an interruption my way.
Sometimes God changes more than our agenda for the day.