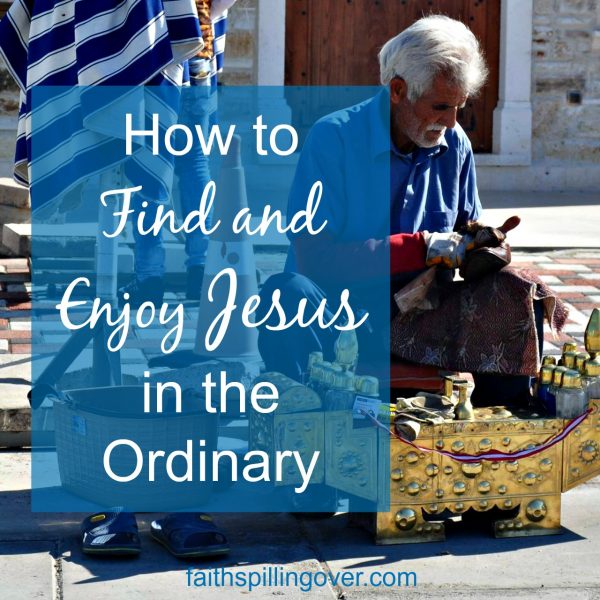 Do you ever feel like you lost Jesus somewhere? I often feel like I lose Him in the middle of my daily crazy. Of course we can't really lose Jesus, but sometimes it feels like we do. He seems close and real during Sunday morning worship, but we lose Him in our weekday hustle and bustle.
We forget the wonder of His love and grace.
We forget His death. He died, so we might live. Yet I forget all about Him in my everyday rush. I lose touch with Jesus as I race to make it to an appointment on time, get dinner on the table a half an hour late, or when someone pulls out in front of me in 5 o'clock traffic.
A quiet voice breaks through my daily hurry with these words:
God has called us into fellowship with His Son. But I'm usually too busy rushing around.
How do we hold on to our Savior during our busy days? How do we live for Him, in Him, and by His power? How do we enjoy fellowship with Jesus?
We have to learn to seek and find Jesus in the ordinary.
Brother Lawrence, the inspiration for my favorite book, Practicing the Presence of God, said the key to finding God in the ordinary was to practice His presence: to continually lift our hearts to Him and maintain a running conversation with Him throughout the day.
I'm trying these simple ways to remember Jesus in the ordinary:
Remember He died for you and thank Him daily.
Each day, whisper a word of thanks to the Savior who died for you. Scripture reminds us: "God demonstrates His own love for us in this: while we were still sinners, Christ died for us" (Romans 5:8).
Yet recently I felt like I was taking Jesus' death on the cross for granted. I spent a few minutes in my quiet time re-reading the story of the crucifixion. As I read through the details, a fresh sense of Jesus' sacrificial love flooded my heart.
If you feel you've lost touch with the reality of His death for you, you can find that story here:
Matthew 27
Mark 15
Luke 23
John 19
Start and End Your Day with Jesus
Say good morning to your Savior as you wake up. Spend a few minutes praying or reading His Word, so you're more apt to remember Him later. Make Jesus the last name you say as you go to bed at night. Thank Him for the grace that got you through the day.
Turn to Him Often Throughout the Day:
Slow down during a busy day to stop and say, "I love you, Lord." Thank Him for His gifts and blessings when you notice them. Ask Jesus for help with each task. After you finish, thank Him and ask, "What next, Lord?"
Give Him Your Burdens.
Worried? Turn each anxious thought into a prayer. Upset? Tell Jesus all about it just like you would talk to your best friend. When I do this, I feel relief and enjoy more peace.
Friend, the best way I can enjoy Jesus is to remember He loves me. He loves you too. He loved us enough to die so we could live. Let's remember we're dearly cherished and loved as we go about our day. He has fresh grace for us right now. Let's receive it.
Now it's your turn: What helps you find Jesus in the ordinary?
If you'd like fresh servings of Faith Spilling Over delivered weekly to your inbox, enter your e-mail address in the box in the sidebar. I'd love to send you my free guide, 10 Days to More. You'll find 10 ways to study and engage with God's Word.
Linking up with Kelly Balarie's #RaRaLinkup, Holley Gerth's Coffee for your Heart, Crystal Storms' #HeartEncouragement, Salt and Light with Alisa Nicaud, Lyli Dunbar's #FaithonFire, and Arabah Joy's Grace and Truth. Check out these communities for more encouragement.