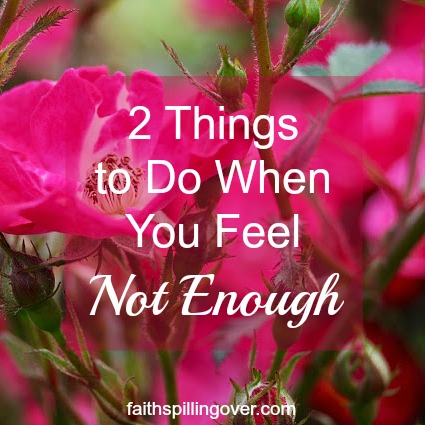 As I stepped out the door, I realized I had my shirt on backwards, but I kept going rather than turning back to go change. After all, it was only 7:00 am, and I was headed for the walking trail. Who would be there, and even if people saw, who would care?
"I can rock this backward shirt look," I said. No problem here.
However, minutes later I noticed the park was more crowded than I thought. Lots of women were wearing fashionable, color-coordinated Lycra exercise clothes. They had cute, colorful tennis shoes too. I looked down at my non-fashion statement: gray Nikes, black running shorts, and a nondescript grayish brownish T-shirt, which happened to be on backwards.  All of a sudden, I felt like something was vaguely wrong with me.
Do you ever have a sinking feeling that you're not quite right?
Not quite thin or pretty enough?
Not emotionally healthy enough?
Not smart or savvy enough?
Not a good enough daughter, wife, mother, or friend?
Sometimes we wear a "Not Enough" label just like I wore that backwards T-shirt.  We even let "Not Enough" sink into our hearts…
Please follow this link to join me at FollowHisFootprings.org, where I'm sharing 2 things that are helping me shed the "Not Enough" label. In Christ, we have reason to feel beautiful, even on backwards t-shirt mornings.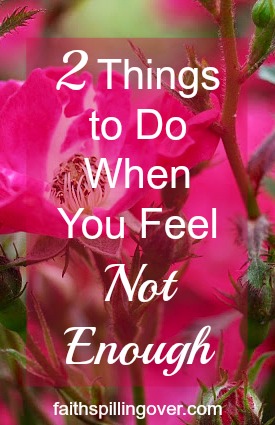 If you'd like fresh servings of Faith Spilling Over delivered weekly to your inbox, enter your e-mail address in the box in the sidebar. I'd love to send you my free guide, 10 Days to More. You'll find 10 ways to study and engage with God's Word.
I link up with Kelly Balarie's #RaRaLinkup, Holley Gerth's Coffee for your Heart, Crystal Storms' #HeartEncouragement, Salt and Light with Shannon Guerin, and Arabah Joy's Grace and Truth. Check out these communities for more encouragement.