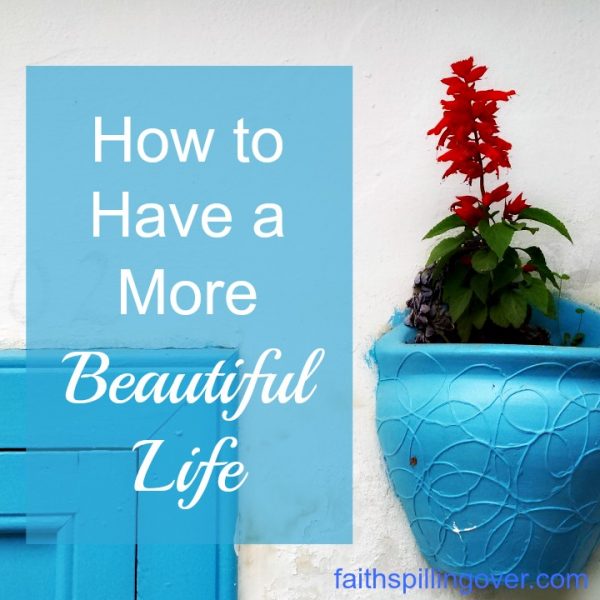 Everyone wants a beautiful life, don't you think? But just when you're finally on the road to your happy place, your car breaks down! The dog gets diarrhea, or your company is downsizing, or you get a call from your bank asking if you charged $6,000 at Target yesterday. So many things can drain the happiness right out of a woman.
Joy escapes us if we wait for the problem-free life. Happier people learn to find beauty in their bumpy messes and hope in their hurting places.
Recently I celebrated 53 and wrote about what I've learned about leading a more beautiful life. I'm giving thanks because although I still have so much to learn, I'm more joyful today than 20 years ago.
Here are 5 things I'd tell my 33 year old self:
Get Comfortable in Your own Skin
Relax and be yourself. You don't have to be afraid you're talking, laughing, or dressing too loud at the party. Take risks. Don't second guess thoughts that come into your head about reaching out to someone you barely know to encourage them with a smile, a text, or an invitation to coffee. They won't think you're weird; they'll be glad. Be your best version of you. That's who the world around you needs.
And don't forget how beautiful you are. Learn to embrace your brand of beauty instead of wishing you had someone else's figure or face.
Find Joy in Your Darkest Places
Don't wait for joy. Find it in the dark, fearful places instead of putting it off until happy, sunny days arrive. Then you'll always have some measure of it.  Psalm 16:11 reminds me no matter what life brings, I have more joy today WITH God than without Him: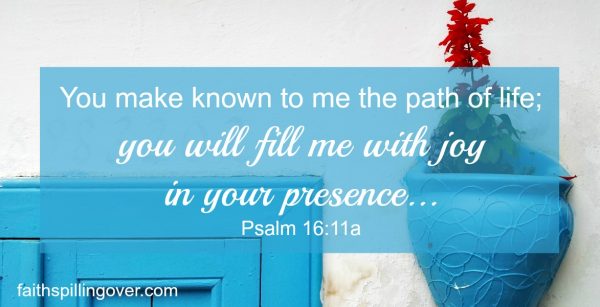 These add joy to my daily life:
God's Word
Music
Laughter with people I love
Noticing beautiful things
Cultivating gratefulness for small blessings
Take Care of Yourself
Whether we're moms, daughters, sisters, or friends, God made women nurturers, yet we can run ourselves ragged when we don't care for ourselves. He calls us to love others AS we love ourselves, not instead of loving ourselves. When we practice self-care, we're better prepared to help others.
What do you enjoy doing? Make time for that each day, even if it's only 15 minutes.
How could you take better care of yourself physically?
What about your emotional needs? Let Jesus fill your emotional tank first, but spend time with people you love.
What feeds and nourishes your spirit? Let God renew your mind and heart as you read His word. Read an encouraging book. Get outside and talk a walk.
Cherish the Person You Said "I Do" To
While your kids are growing up, busy routines make it easy to take that person sleeping next to you for granted. Take a few minutes each day to cherish him. Kiss him when you part and when you meet again. Leave aside your mental to-do list and give him your undivided attention when he's talking. Sex can be the first thing to slide when you're busy, so celebrate your relationship by having it often.
Small investments in your relationship make a big difference over time. Your husband will be your best friend when it's time for the kids to fly the coop.
Family First
"I wish I hadn't spent so much time with my kids when they were younger," said no mother ever. Our kids will leave home one day, so let's enjoy them now and make small, daily choices to put our families before our careers and ministries.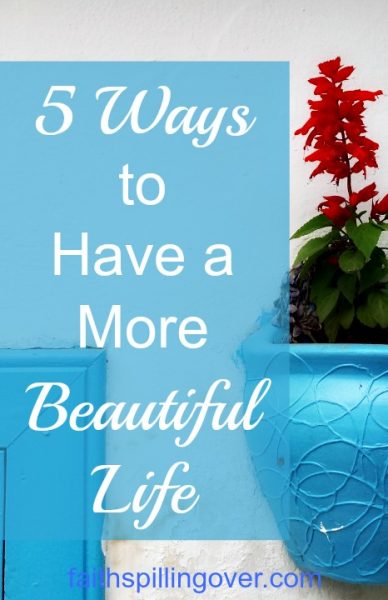 I'd be the first to say I'm still learning. My family and friends would definitely tell you I haven't arrived, but I'll walking forward. I press on to follow God's leading on the path to a more beautiful life.
What about you? What's something you'd tell your younger self?
If you'd like fresh servings of Faith Spilling Over delivered weekly to your inbox, enter your e-mail address in the box in the sidebar. I'd love to send you my free guide, 10 Days to More. You'll find 10 ways to study and engage with God's Word.
I'm linking up with Holly Barrett's #TestimonyTuesday, Kelly Balarie's #RaRaLinkup, Holley Gerth's Coffee for your Heart, Crystal Storms' #HeartEncouragement, and Arabah Joy's Grace and Truth. Check out these communities for more encouragement.