One perk of having young adult daughters is they can teach you how to put on makeup. Believe me, I need all the help I can get. Mine have been trying to show me how to use liquid eyeliner. (Yes, after 16 years living in the Middle East, I finally broke down and got on the eyeliner train.)
Most mornings, my hand shakes a bit because applying eyeliner on 52 year old eyelids is not a task for the faint at heart. Sometimes I end up with black smudges after unsuccessful attempts to wipe off mistakes. Other days I manage a sleek, smooth line. Somehow makeup helps me feel more put together and ready for the day ahead.
The truth is I need more than good eyeliner to get ready for the day.
You probably do too. Every day, challenges await us in our homes, offices, schools, and workplaces. Often I wake up in the morning feeling daunted and unprepared for the day ahead. It's tempting to just rush out into the rat race after a social media fix.
To get a better start on my day, I need to equip myself with God's Word and His Spirit.
Sometimes we think of the Bible as an ancient book which offers lots of spiritual advice, but has little practical application for our everyday, typing, teaching, phone-answering, carpooling, and grocery-shopping lives. However, recently I was shocked when I discovered how powerfully God's words to a prophet in 1000 B.C. spoke to me:
God was sending Samuel on a risky venture to find and anoint the future king of Israel. What would Saul do if he found out? How would Samuel recognize the man God wanted him to anoint? God answered his questions with reassurance, "I will show you what to do." (For the whole story, read Samuel 16:1-13.)
Samuel had more than a regular day's work ahead of him, but I see here 3 steps to a good start on any day.
Talk With God First
Samuel had a conversation with God, but maybe the best way for us to talk to Him is to start off reading His words in scripture. His Word fills our minds with His truth and promises; it starts a conversation we can respond to in prayer.
Let Him Fill You
The Lord commanded Samuel to fill his horn with oil, so he could anoint the future king. However, I can't help but make a connection between oil and the Holy Spirit. We can prepare ourselves for the work ahead of us each day by asking God to fill us with His Spirit. Lately, I pray this most mornings: "Come, Holy Spirit. Fill me with your power and wisdom. Lead me today."
Remember He's Sending You
God had a special task for Samuel that day, but Samuel probably had many ordinary days as well. It's the same for us. Some days God has amazing work for us to do. Other days, He's sending us out to drive kids to school and finish a project at work. When God sends us, every task is important.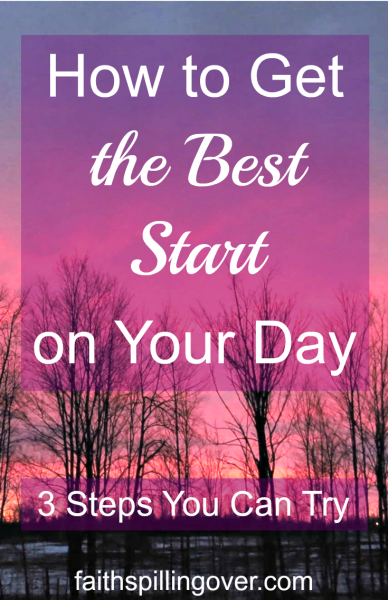 No matter what's on our plate, let's start our day with a generous helping of God's Word. Let's talk to Him before we talk to anyone else. A liberal portion of God's Spirit poured into us will take us so much further than perfect eyeliner ever could.
Now it's your turn: What helps you get a good start on your day?
If you'd like fresh servings of Faith Spilling Over delivered weekly to your inbox, enter your e-mail address in the box in the sidebar. I'd love to send you my free guide, 10 Days to More. You'll find 10 ways to study and engage with God's Word.
I'm linking up with Holly Barrett's #TestimonyTuesday, Kelly Balarie's #RaRaLinkup, Holley Gerth's Coffee for your Heart, Crystal Storms' #HeartEncouragement, and Arabah Joy's Grace and Truth. Check out these communities for more encouragement.