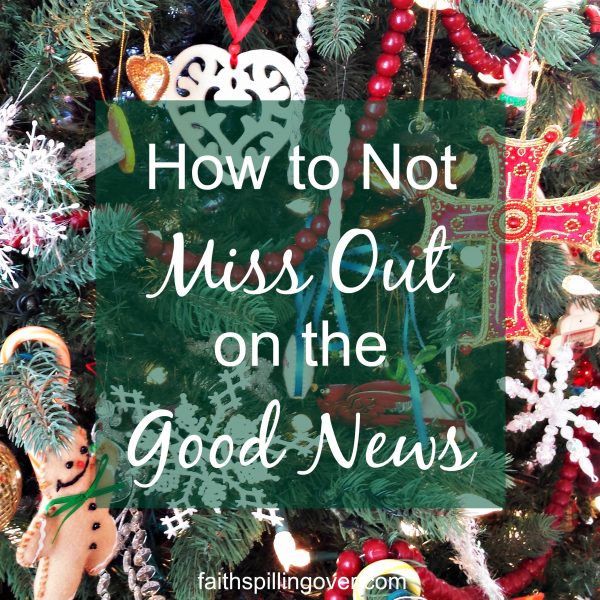 If an angel of the Lord appeared to me like he did to the shepherds, I wonder if I'd be too busy to slow down and notice. How would I react if an angel appeared to me while I was in line at Target, or racing through the grocery store? Would I even see it? Do I care more about slowing down to savor the Lord's presence or about speed cleaning through my house so guests won't think I'm a total clutter queen?
The shepherds were busy at their everyday work when the angel appeared, and the glory of the Lord surrounded them.
How much glory and good news do we miss in our every day?
December is a favorite time of year, yet for many moms, the holidays only add to our to-do list. If we didn't have trouble keeping up with regular life before, now there's cookie baking, decorating, gift-buying, Christmas programs, and more Target runs.
I enjoy holiday activities, but I don't want them to make me miss the main thing: slowing down to savor and share the good news.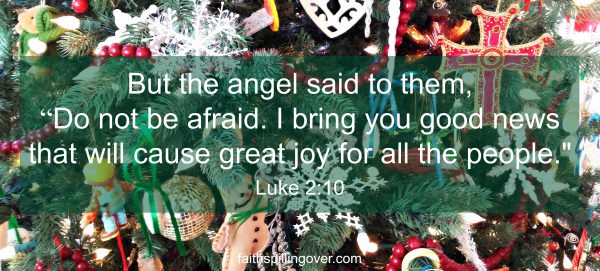 The angel said it was good news, right?
The Christmas story isn't just some otherworldly happening, the supernatural birth of a baby born 2,000 years ago. Jesus' birth is good news for our lives today. In the opening chapters of Luke, I see reasons to rejoice, and I'll be writing about these each Tuesday in December:
God saves us from sin.
He hears our prayers.
We are blessed in believing.
We have the Holy Spirit, God's presence and power.
How about slowing down to savor the good news of our Savior this December?
Let's allow His Spirit to write good news more deeply on our hearts, and let's share it with others. Let's not miss out on the glory of God all around us.
Take 15 minutes each day to slow down and savor time with God.
Rather than speedreading to finish your "Read the Bible in a Year" program by December 31st, why not slow down? Try reading 10-20 verses each day from the opening chapters of one of the gospels. As you read, ask yourself, "How is this good news for my life today? What difference can this make to me?"
Ask Him to open your eyes to His glory.
At the start of each day, ask God to show Himself and to speak to you. Before you lay down at night, ask yourself, "Where did I see or hear God today?" Thank Him.
Take time to share good news with your family and friends.
Celebrate Advent by lighting a wreath and doing readings together, either each evening or just on Sunday nights. Read more here about how Advent rescues Christmas from the gift goblins and how to celebrate it as you can instead of trying to live up to Hallmark holiday perfection.
Consider inviting a friend to join you for church during the holidays, or even to join your family on a Sunday evening for soup and an Advent reading.
The best way to not miss out on the good news is simple. Slow down to share it with your family and friends. Slow down to enjoy the people you love. Most of all, slow down to enjoy your Savior this season. Savor quiet moments with Him.
Now it's your turn: what do you like to do to slow down for the holidays?
Join me each Tuesday in December for more on "Slowing Down to Savor the Good News." You can subscribe to get each post in this series delivered to your inbox. Enter your e-mail address in the box at the top of this page.
For an easy, hands-on way to celebrate Advent with young people, my friend Lisa Appelo wrote Countdown to Christmas: Unwrap the Christmas Story with Your Family in 15 Days. Check this link for more information: http://lisaappelo.com/countdown-to-christmas-book/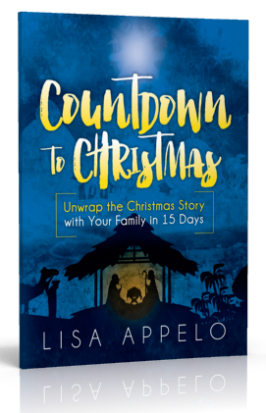 I'm linking up with Holly Barrett's #TestimonyTuesday, #RaRaLinkup at Angela Parlin's, Holley Gerth's Coffee for your Heart, Lyli Dunbar's #ThoughtProvokingThursday, and Arabah Joy's Grace and Truth.  Check out these communities for more encouragement.